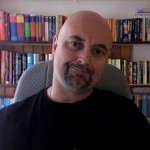 Welcome to my website.
I am an author of science fiction and fantasy novels for children and young adults, including The Alchemist's Portrait, The Sorcerer's Letterbox, The Clone Conspiracy, The Emerald Curse, The Heretic's Tomb, The Doomsday Mask and The Time Camera, plus many non-fiction books.
Simply click on the book covers to learn more about my exciting adventure novels and non-fiction titles.
Books are usually available in your local bookstore, at online locations and you can always purchase personally inscribed and autographed copies in my online bookstore.
Listen to one of my online readings, read excerpts from the books or study some of the published book reviews and readers comments. Learn about me and my work in the Bio section or learn what teachers and students have to say about my presentations, workshops and residency programs.
You can also visit my blog and look for me on Facebook, Twitter and YouTube.