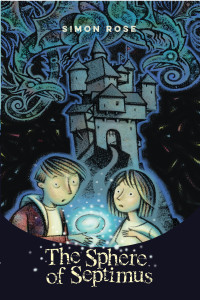 "Simon Rose's latest novel, The Sphere of Septimus grabs the reader's attention from the start as it takes you on an imaginative journey through the isolated village of Middle Wogglehole to the world of Koronada. All seems normal when Eric arrives to spend the summer with his eccentric father, Septimus Trinket, but he quickly finds out that things aren't as they seem. Fast paced with vivid descriptions, creative creatures and a suspense filled plot, it's impossible to put this book down. It is a great read for children who enjoy fantasy and science fiction books. I highly recommend it for both boys and girls. It's a must read!"
Amazon, February 2015
"When Eric goes to visit his estranged dad Septimus he discovers more than he ever imagined. The sleepy town of Middle Wogglehole has a mysterious past that involves magic, mystery and adventure. Eric and his new friend Jessica find themselves traveling to another world through a portal and in an amazing rescue mission. Simon Rose captures imagination and brings characters to life in this adventure tale. Both boys and girls will enjoy the story. It is worth a read!"
Ashley Howland, February 2015
"A great book for children who enjoy to read both fantasy and science fiction books. This was the first of Simon Rose's books that I have read. It was a fast paced great book to read. Once I started reading it I could not put it down until it was finished, I will certainly be reading and reviewing more of Mr. Rose's books in the not too distant future."
Amazon and Professor Owl's Book Corner, January 2015
"The Sphere of Septimus is an exciting story of fantasy and adventure."
Prairie books NOW Spring/Summer 2015
"Overall, youth readers will enjoy this fantasy novel … the language in The Sphere of Septimus is appropriate for the audience, and the length may be more suitable for younger readers or those who are new to the fantasy genre."
CM: Canadian Review of Materials, September 2015
You can read the full review here.
"E for Excellent!
Eric leaves London to spend the summer with his estranged father, Septimus, whom he has not seen in years since his parents split up. When he reaches the town of Middle Wogglehole, he is befriended by a girl named Jessica who gives him a tour and history of the area. Middle Wogglehole is surrounded by strange happenings and a magical history.
Eric starts to see strange things and is unable to explain them. One day Eric and Jessica enter Septimus workshop to see a strange orb sitting there. Upon touching it, Eric unwittingly opens a portal to another universe, the universe of Koronada. Jessica is swept into this foreign universe as it closes. Eric employs the help of his father to enter into the world of Koronada, which is Septimus' homeland, to recover Jessica. Eric's father comes clean about his past and that there is a thin barrier between universes at Middle Wogglehole, hence the magical and mysterious past of the area. However, once in Koronada they are thrown into the middle of a bloody battle against an evil leader, Galderon, who controls an army of hideous creatures and is trying to take over Koronada, along with other universes with the use of Eric's orb. It is with Eric and Jessica's help that the resisting party goes to battle to defeat Galderon.
This book will appeal to a large audience due to its engaging style, and fast action pace. It's divided into named chapters which foreshadow the coming action. Teamwork is a big theme in this book as the characters must work together to defeat the evil forces. Invention and imagination are also big themes in this book as Septimus is a tinkerer, and the resistance army uses gadgets to sneak around in secrecy. Good overcoming evil is another strong theme in the book, which can be used as a curricular theme, as well as a demonstration that power seeking can lead to corruption, as Galderon did not start off evil, but turned this way as he sought great power."
Emma-Leigh Mitchell, Resource Links, Fall 2015