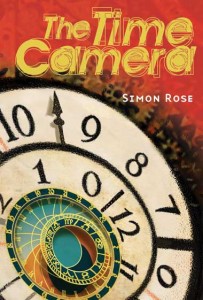 Available at: Amazon / Kobo / Barnes & Noble / Indigo/Chapters

The Time Camera
The massive explosion in which Eleanor Chamberlain died at her research laboratory was widely seen as a tragic accident. Or was it the perfect crime?
Two years later, Jake and Lydia discover a mysterious camera, capable of taking pictures of the distant past and more ominously, of the future. As they uncover the shocking truth and learn of secrets that someone will kill to protect, Jake and Lydia are soon propelled into a deadly struggle to save the future.
Published by Tradewind Books, Vancouver BC
Release Date: November 2011
ISBN 10: 1896580092 ISBN 13: 9781896580098
Ages 8-12     Grades 4-7
Learn more about The Time Camera
Reviews     Read an Excerpt     Study Guide
The Time Camera is available as a paperback or as an ebook at the following locations:
Amazon Canada     Indigo/Chapters     Amazon USA     Barnes and Noble     Amazon UK     Amazon Germany Amazon France     Amazon Japan 

You can always buy autographed copies of The Time Camera directly from the author.