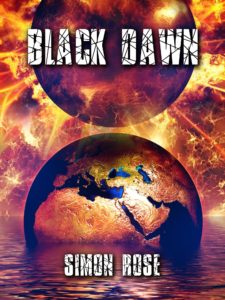 "If the government found another world, a parallel Earth, would you support them in exploring all they could about it without question? We would probably have TONS of questions!! A question that would seem likely would be, do I have another one of me on the other side? What if it was inhabitable? No water, no food? What if it was a better world than the one that we live in today? All of these concepts are really interesting to think about right?! Rose's final installment within the Shadowzone Series will end the journey for Ben and Charlie.
So now that the Greens and Subrads are working together, does that mean that they can trust one another? Maybe, possibly, most likely…since they are working toward a common goal. But, there is still doubt. As the Ministry begins moving out toward the airport with their European guests, so too does Ben and Michael. They make a beeline for the last known safe house in the city where he remembers the Greens holed up in. When they get there, thankfully, Levi and Nathaniel find them and help them get underground. With Michael barely hanging on, the gunshot to his stomach has taken a lot of blood, Ben hangs onto the hope that he can be saved by Marta–the healer in the Subrads group. As they make plans to find and rescue Charlie, they aren't the only ones doing so. An unlikely ally rescues Charlie from her dad and leaks to the Greens and Subrads what the Director-General's endgame for the Ministry will be. And…it is not pretty! In fact, it is downright crazy. And it very well may cause the end of their world. Yeah, it wasn't a wonderful world to live in, but life is still better than death…even if no one knows how much of that is left. What can they do to stop him?
Rose has an interesting story with some original and creative concepts about a parallel Earth. With the world ending as they know it, everyone is in full panic and Rose conveys this sense of urgency fairly well. With Black Dawn, we are coming to the end of the three-part adventure. The pace has picked up in pace a bit, making it a very quick read. If you are a reader of science fiction, action and adventure, and young adult dystopian fiction, you may thoroughly enjoy this light read. This installment continues right where the previous one ended; therefore, it is recommended for readers to begin with Shadowzone and Into the Web before jumping into this one."
Turning Another Page, July 2019.
"Time travel, alternate worlds, and societal sub-cultures are blended into a great plot, and a gripping and relevant read. The environmental stewardship aspect of this story echoes our current day challenges, as do the almost prescient references to a dangerous virus. Characters were well drawn and the reader is cheering for their success. The three books in the series flow smoothly together. A great read for middle school ages and up, to both engage interest and build vocabulary. Highly recommend this series!"
Amazon, July 2020
"This is the third book in the ShadowZone series and it lives up to the previous two. This time Charlie and Ben have to put their lives on the line in order to save both worlds from destruction. The danger has never been more real as the Director – General will stop at nothing to see his plan for a new start to succeed. Once again Simon Rose carries interesting characters through an action packed story. Readers will love this instalment as much as the two earlier books."
Ashley Howland and Amazon, October 2017
"This is the third book in the "ShadowZone" series written by one of my favourite young adult authors. After finishing book one and two, I could not wait to start this one, I was not disappointed. This time Ben and Charlie risked their lives to save both worlds from destruction. This was another exciting story with good character structure and as usual well written. The story closed with a great ending, although I was hoping for perhaps another book to this terrific series."
Amazon, Kobo, and Professor Owl's Book Corner, January 2018