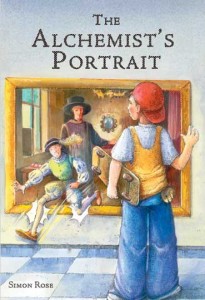 "The Alchemist's Portrait is a delightful and charming read. The reader is not only quickly transported to the quiet echoing hall of the museum, but back in time to the height of the Northern European art scene of the 1600's. I absolutely loved this book! It is a definite contender for one of my favourite reads for the 9 – 12 year old set!" Greenwoods' Bookshoppe, Edmonton
"The Alchemist's Portrait is guaranteed to keep junior readers in suspense. Its fast paced plot will keep them reading to the end. This is a good acquisition for any library or private collection and might well augment a classroom reading program. Those who study fantasy as a literary genre might well add The Alchemist's Portrait to their teaching repertoire." Resource Links
"Harry Potter fans will find the story a satisfying remedy to their post-Phoenix blues." The Calgary Herald
"In this fast paced enactment of the classical theme of good vs. evil, the settings are vivid in detail. The characters are believable and diverse…" University of Manitoba CM Magazine
"Author Simon Rose combines time travel with an exciting twist, and the power of magic. Well written and fast-paced this novel will keep the reader spellbound." The Bookmark
"Congratulations on a great read for kids." CanLit For Kids Books Ltd.
"Complete with an evil villain, magic and suspense, Rose weaves a tale that will have young readers engaged right up until the very end." BC Parent
"These three mid-grade adventures, two fantasy and one science fiction, will keep any self-respecting adventure fan glued to their chair and turning pages. Fast-paced, good tension and a satisfying ending are becoming Simon Rose's hallmarks. He has a finely balanced sense of pacing, knowing exactly when to crank the tension to keep the pages turning. In very few words, he can evoke the feeling of an era, and make the reader feel as though they are there with the main character. Boys and girls, and adults will enjoy all three of the books, and come back to read them again."
Smartwriters on The Alchemist's Portrait, The Sorcerer's Letterbox and The Clone Conspiracy.
Reader Comments
"Your book was great! It was one of those books where I felt as if I were in it. I loved this book and it is now one of my all-time favourites!"
"The Alchemists Portrait was a great book to read. I love mystery, adventure and scary books. You had all of them."
"I loved it!!! It's one of my favourite books of all time!"
"I absolutely loved your book, it was amazing."
"Your book was awesome."
"I really like your book because it has a very cool story line and it is exciting."
"I enjoyed The Alchemist's Portrait. I liked the characters and it was very suspenseful. It was hard to put it down."
"I just read 'The Alchemist's Portrait' today. I thought it was really excellent. Can't wait to read more of your stuff."
"I just finished reading your book. It is great! I haven't read a children's book in a while that I enjoyed as much as The Alchemist's Portrait. I will be recommending your book to anyone looking for a good kid's story."
"The book is so good I can't STOP READING!"
"I have never really liked reading but your books make it fun. I loved the Alchemist's Portrait and I can't wait to read the Sorcerer's Letterbox. I loved the suspense built in and we didn't even get to chapter four!"
"I loved your book The Alchemist's Portrait. It captures your imagination. YOU HAVE TO WRITE MORE BOOKS!"
"My class and I read your book, The Alchemist's Portrait. I think it is a fantastic and adventurous book to read. It captures your imagination. It is amazing how people like you can write such interesting and excellent books."
"I love your book The Alchemist's Portrait and it was inspiring, amazing, and great. I'd love to read it again. Is there a number two?"
"The Alchemist's Portrait was really good and exciting. The book was inspiring. Please write more books."
"The Alchemist's Portrait was the best book that I have ever read"
"Your book, The Alchemist's Portrait , really reminded me of Harry Potter series and that's good because I really love Harry Potter. Anyway, hope you keep on making more books."
"I love your book. It's so magical."
"I liked your book. Can you write another book like it with magical powers?"
"I read your story The Alchemist's Portrait. I like your story a lot. It's excellent, it's also inspiring, it was interesting, it was awesome."
"I loved your book. It was fantastic. Is there going to be a movie?"
"At my school we read a really good book. It is called The Alchemist's Portrait . I love that book! It was magical, adventurous and it really brought me into the story. It also captures your imagination so quickly! How do you do it?"
"I got your book yesterday, The Alchemist's Portrait. And I couldn't stop reading it! It was so great! You're a wonderful writer. Not very many writers can write a story like that! I can't wait to buy your Sorcerer's Letterbox!"
"I really liked your book The Alchemist's Portrait. I think your book is better than any other books."