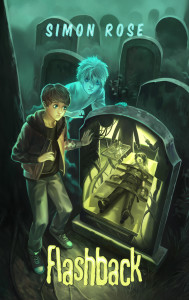 "Flashback is a fascinating Young Adult book that pushes the boundaries of imagination: the Grail for every science fiction and fantasy reader. Shortly after its publication, Simon Rose's Flashback was nominated for the 2016 Alberta Publishers' Award in Young Adult. This book intertwines cold case and active murder case mysteries, high-level governmental military cover-ups, some supernatural or paranormal intervention, with some time travel. Flashback is progressive writing. It ignites a reader's imagination to think "outside the box" for the creation of a better society: exploring the concept of teamwork, in building better futures together, that could not have been done singularly — the reality of winning teams today, business or personal. 
The book starts off with a series of contact attempts by a teenage deceased named, David, who wanted some closure to his "cold case", through teenage Max. When Max was able to finally accept the paranormal contact as real and not as a psychiatric episode, Max soon was able to teleport into David's "world", where Max's sleuthing adventure begins. Eventually, Max's mental abilities expanded to the point that he was able to assume the identity of David in David's time period. The readers see how Max affects the futures of others, as well as his own timeline, with his time travel. At the same time, the readers see some of the "the Butterfly Effect" phenomena in action. That is, one small action at a critical point in time, that can alter the future in a big way. 
The book explores the power of the mind to affect the fractals of a community from one self to other individuals, whereby changing societal outcomes. With such abilities, Rose reminds readers of the responsibilities and considerations that go with having such life-altering talents. This book is one of the few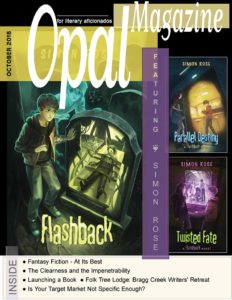 fictional works that can work at different dimensions of thinking, at the same time to successfully converge them to the central theme of humans helping humans because it is the right thing to do – past or present. Simon Rose masterfully takes his readers on a thrilling ride, with the innovative adventures presented, that is quite enjoyably memorable. Flashback is book one of the series."
Opal Magazine, October 2018 
"Right from the very first sentence I was engaged, and I could not wait to find out what happened next. The book was thrilling and it kept me on the edge of my seat. I read it quickly and then reread just to savour the wonderful words. I am very happy that there is a sequel to it."
Amazon, October 2017
"My ten-to-fourteen year old self would probably have devoured this book three times in a row, probably under the covers with a flashlight. Unlike other authors I'd read at the time, Rose doesn't patronize his younger audience; rather, he allows his protagonist to follow a lead to its next logical step. Rose also leaves some complex words in the story and instead of substituting easier words or explanations, he trusts his readers to go find a dictionary. He also doesn't flinch from action or certain potentially gory details. My younger self would probably have been creeped out (in a good way) for weeks after reading this book.
My older self has some hang-ups with a couple of plot points, but nothing I would have noticed when I was younger.
I would recommend this book to any young reader who wants to escape from romantic YA mush and get into something a little more gritty."
Goodreads, October 2015
"I forget sometimes why I love reading and then I come across a book like this that reminds me of that other place that we live in inside our minds. Flashback has literally given me a flashback to all the books I enjoyed when I was younger and why I enjoyed the hour or two I stole in my day to sit down and escape. This place, this story, this world that Simon Rose has created is a wonderful place to escape to. Put your imaginations in the hands of this wonderful author just as his character David puts his life in the hands of our protagonist, Max. Let them take you on an adventure through time."
Amazon, August 2015
"Flashback is an action-packed adventure perfect for middle grade readers.  Young readers will enjoy the plot-driven story rife with the supernatural, bad guys, evil experimentation, and time slip. While I found some of the plot progressions to be a little contrived, I think younger readers will appreciate the fast pace and suspenseful thrill of learning what really happened to David Dexter courtesy of a middle-grade sleuth."
Canlit for Little Canadians, March 2016
Read the full review here.
"Review by my 10-year old daughter. I am so happy she has found Simon Rose's books. She loves them all.
This book is about a guy who goes into another guy's memories to save the world. He is scared, but he feels he has to. Flashback was a great book. Max and Deanna were very well developed, they made me feel like I knew them. I read this book five times, I liked it so much."
Amazon, August 2016
"This is the second book written by Simon Rose that we have been honoured to review. It certainly was another great book.
This book starts with fourteen year old Max visiting a cemetery with a friend and finds himself caught up in the adventure of a lifetime. He suddenly gets flashbacks and discovers the fate of another boy lies in his hands.
Max must travel back in time to right the wrongs of the past. You are taken on a journey that is completely unexpected, and ended up somewhere you never would have expected. I love to be surprised when I read and was not disappointed! Professor Owl's Book Corner will certainly be looking for more of Simon Rose's books to share with our readers."
Amazon and Professor Owl's Book Corner, August 2015 
"An imaginary friend, a mystery, and time travel? How could I resist?"
"Flashback" kept me entertained and I enjoyed it. For the most part, it all meshes well and Rose kept me reading; I had to know what happened."
 Bea's Book Nook, June 2015
Read the full review here.
"You have taken a journey with this one that I found completely unexpected, and ended up someplace I never would have guessed. I love to be surprised when I read and you did not disappoint! Seems I'll be picking up a few of your other books quite soon! Thanks for the ride!"
Amazon, June 2015
"Fourteen year old Max visits a cemetery with a friend and finds himself caught up in the adventure of a lifetime. He suddenly gets flashbacks and discovers the fate of another boy lies in his hands. Max must travel back in time to right the wrongs of the past. This is a great book for teenagers and will appeal to both boys and girls. I generally find books that involve time travel become confusing and too farfetched. Flashback is the exception. Simon Rose manages to keep it simple enough that the reader doesn't need to get caught up in the details. They simply get to enjoy a good story."
Ashley Howland, June 2015
"'Max clearly remembered everything, both in the present and the past.'
Canadian author Simon Rose is an instructor for adults with the University of Calgary and Mount Royal University and offers a variety of in-person and online workshops for both children and adults. Not only doe he offer teaching and coaching for writers but he also is a successful author – especially for children's and YA books. FLASHBACK is book one in this Flashback series – a trilogy (so far) of time travel science fiction novels meant to stimulate the imagination of youngsters to explore not only literature but scientific possibilities that may just become realities in their lifetime.
With the aid of very fine cover art by Wiktoria Goc, Simon enters his beguiling new world with a shrewd sense of suspense: '"Are the restraints tight enough?" "Yes, of course they are. I told you, I know what I'm doing." "Now keep still, David, this won't hurt a bit." The twisted smile on the doctor's face told a far different story. Max struggled against the bonds securing him to the operating table as the old man's hand moved closer. Max clearly saw the hypodermic, the needle now only inches from his eye. The younger man with the long blonde hair and pale blue eyes grinned, as Max emitted a scream that he was certain no one would ever hear. "You okay, Max?" Jeff asked. "You don't look so good." Max felt dizzy and disoriented, having to rest his hand on the taller headstone to steady himself. Max and Jeff had gone to grab some pizza that afternoon. It was the start of summer vacation and Jeff had to stop and buy some flowers then meet his grandmother at Queen's Park Cemetery. Jeff's grandfather had passed away about six weeks earlier and his grandmother still liked to go to pay her respects and freshen the flowers beside the grave. The boys had just been chatting to Mrs. McNally and Max had stepped away to give the two family members a few moments of privacy. He was standing by a tall elaborate headstone mounted on a marble pedestal, belonging to someone called Jonathan Dexter. There was a smaller headstone beside the pedestal. Before Max could read the name, his hand brushed the edge of the smaller gravestone. Disconnected, random images had suddenly flashed across his mind, culminating in the terrifying scene with the needle. "I don't feel so good either," admitted Max, running his fingers through his light brown hair and rubbing the back of his neck. "Did you hit your head or something?" Jeff asked. "I don't think so," replied Max, "but now I have this splitting headache." "Are you sure you're okay, Max?" asked Mrs. McNally, with an expression of concern. "Yeah, I think so," said Max, forcing a smile, although his head was truly pounding, and it must have shown in his face.'
And so we enter the world of Max, well described in the book's synopsis – 'A visit to the cemetery, a brush against a strange headstone, and Max's life is changed. He experiences flashbacks of a life that isn't his, from a time before he was born. Some of the memories are pleasant, some are . . . disturbing. Max also sees a boy that no-one else can. He reveals to Max twenty-year-old secrets, secrets that someone will go to deadly lengths to keep concealed. To right a tragic wrong, Max must leap into his new friend's past, not knowing how his actions will affect his own reality.'
A fine start for a story that is to be a series. Simon has the genre down pat!"
The San Francisco Review of Books, September 2018