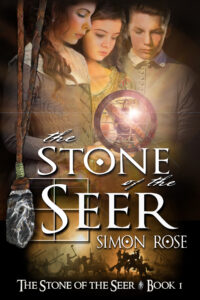 Chapter One
Hope of Deliverance
London, England, September 30, 1701
Samuel Underhill sat in the lawyer's office in the City of London, reading over the final reports of the day. It had certainly been a busy few weeks and he was pleased that some of the more complex legal cases that he'd been dealing with were finally coming to a close. He put the last report down on the desk and rubbed his eyes. It had been a long day at the office and he'd be glad to get home. There were still one or two outstanding tasks but they could wait until tomorrow.
He'd been invited to meet some colleagues from the legal profession at a nearby coffee shop that evening but had declined. Although quite a few of the recent cases that had been handled by Underhill and Stanley were more or less wrapped up, he was well aware of the firm's growing reputation and knew that there would be more projects to come. He needed to ensure that he was well rested in preparation for the work ahead. After a final glance at the report that still lay on his desk, he picked it up and slid it into the upper drawer then closed it. Samuel was about to stand up from his chair when there was a knock on the office door.
"Come in," he said.
The door opened and a tall, slim young man in his early twenties entered the room.
"Yes, what is it, Gabriel?" Samuel asked.
"A client is requesting a meeting, Mr. Underhill."
Samuel frowned.
"Really? That's very unusual at this time of day. Are you sure this can't this wait until tomorrow? It's been a very long day and I was about to go home to my family."
"He said it's very urgent, Mr. Underhill," Gabriel replied.
"Who did?"
"The messenger."
Samuel nodded.
"I see. Well, what does the message say? Let me take a look."
He held out his hand but Gabriel didn't respond.
"There wasn't anything in writing, sir," he explained. "The man that came here simply told me that it was urgent and that you need to go and see Mr. Wentworth right away. Then the messenger was gone."
"Ah yes, Mr. Wentworth," said Samuel, smiling. "One of our most longstanding clients. Thank you, Gabriel. I'll go over there and see him right away."
Samuel was in his late forties and wore a dark blue waistcoat, matching long coat with dull brass buttons, white lace cuffs, and a white cravat. He was wearing a plain black hat and a brown wig of lightly curled hair that cascaded over his shoulders. He hurried past St. Mary's church, trying not to be late for his meeting with one of his most important clients. The streets of London were as crowded as ever as autumn approached, the market traders competing with each other as they loudly encouraged passersby to visit their stalls. The many different shops that he passed all seemed to be busy too, as were the nearby taverns. This part of the city had been severely damaged during the Great Fire in 1666 but he never ceased to be astounded at the resilience of London's citizens to rebuild, recover, and carry on with their lives. The city was vibrant at the beginning of a new century, as London began to increase in importance as one of the leading metropolitan centres in the world.
However, there were some notable storm clouds on the horizon. The war in Europe had only concluded a few years earlier but now it seemed very likely that a new conflict was coming. The death of the King of Spain without a recognized heir the year before had thrown things into chaos. In France King Louis seemed determined to rule all of Europe and in London King William had been his sworn enemy, working with other continental powers to thwart Louis' ambitions whenever he could. For a time it appeared that the two kings had come to an agreement regarding the Spanish Succession and other pressing issues but events in Spain and elsewhere had put paid to that. William's predecessor James II had been deposed and exiled in 1688 and news had recently reached London that he'd died in France. Contrary to his earlier promises, King Louis had decided not to recognize Princess Anne, William's sister-in-law, as the rightful heir to the English throne. Instead, the French king had declared that the Stuart pretender James Edward Stuart, son of James II, was the rightful king of England. Now war seemed inevitable in Europe and Samuel feared for his sons, both of who were serving in the army and were highly likely to be involved in any coming military conflict. Samuel tried to convince himself that common sense would prevail and that peace in Europe could be maintained, but he wasn't overly optimistic.