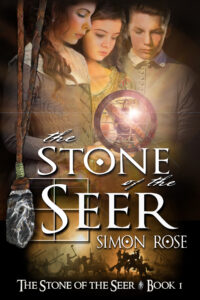 Available at: Amazon / Kobo / Barnes & Noble / iBooks / Smashwords / Scribd

The Stone of the Seer is an exciting historical fantasy series of adventure novels for young adults, primarily set in the turbulent period of the English Civil War.
The Stone of the Seer, book one in the series, features the Vikings, Leonardo da Vinci, and the political turmoil of the 1640s. At Habingdon House, Lady Elizabeth Usborne, Kate, and Tom encounter a magical black stone, mysterious ancient manuscripts, and the incredible time viewing device known as the tempus inpectoris, all while under constant threat from the murderous witchfinder, Daniel Tombes.
Release Date: January 2022
ISBN: 978-1999466343 (Paperback)
ISBN: 978-1999466350 (Ebook)
Learn more about The Stone of the Seer
Reviews     Read an Excerpt     Historical Background
Royal Blood: Book Two of The Stone of the Seer series
Revenge of the Witchfinder: Book Three of The Stone of the Seer series
The Stone of the Seer is available at the following locations:
Paperback
Amazon Canada     Amazon USA     Indigo/Chapters     Barnes and Noble     Amazon UK
Amazon Germany     Amazon France     Amazon Japan     

Ebook
Amazon Canada     Amazon USA     Kobo     iBooks     Barnes and Noble    Scribd     Amazon UK