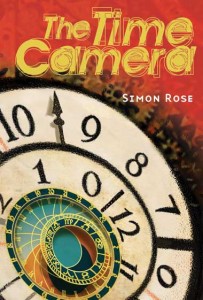 "The Time Camera is about a camera that can take people forwards and backwards in time, and a man named Magnus, who wants to steal the world's inventions by using it. Lydia and Jake have to use the Time Camera to go back in time to fix what Magnus has done. It was really cool when they went forwards and backwards in time, there were lots of surprises because although they went backwards, they got to keep their memories and knew why they were there and what had to get done, which I liked."
Amazon, August 2016
"The Time Camera, like other novels by Simon Rose, explores the idea of time travel. The book's prologue zooms in on a power struggle between two scientists regarding the ethics of allowing the existence of a camera with extraordinary abilities. Fast forward one year and we learn that one of the scientists was Eleanor Chamberlain, deceased mother of Lydia. Lydia and best friend Jake found the camera hidden in the floorboards of Eleanor's office. While playing around with the camera, and watching research videos from Eleanor's laptop, the two inadvertently reveal the astonishing powers of the camera. Their gradual discovery that the camera can not only take pictures of the past and future, but can also transport objects and people to the past and future leads the pair to relive events of the past and uncover the truth surrounding Eleanor's death.
Without being overly technical, the book succeeds in making the concept of time travel feasible. The action is fast paced."
Resource Links
"Lydia Chamberlain's mom was a scientist who died while trying to conceal a secret from her research partner. The explosion that took her life consumed her confidential paperwork, but her laptop and camera were protected. They were in a safe place. When Lydia and her friend Jake find these items years later, they discover the danger behind her research in time photography involved someone they trusted. The pair try to conceal their discovery from 'Uncle' Magnus, but it's impossible to hide a secret from someone when that person can also manipulate time.
With a turn of a camera knob, Albertan author Simon Rose (The Alchemist's Portrait, The Doomsday Mask) takes readers back to the past and into the future. When Jake and Lydia have the camera in their possession, they see the impossible; Paris in the eighteenth century; a crime before it's about to happen, and someone who's already dead. There are no illustrations in this book, but the chapters containing excerpts from Eleanor Chamberlain's research highlight the suspenseful moments. This story will have children thinking about the good, and bad things, that could happen in a world where time travel is possible." 
The Manitoba Library Association
Reader Comments
"I just finished your book The Time Camera! I think this might be my favourite book ever!"