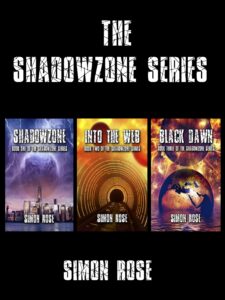 Available at: Amazon / Kobo / Barnes & Noble / Scribd / iBooks / Smashwords / 

The Shadowzone Series of science fiction and fantasy novels involves the discovery of a grim dystopian version of Earth ruled by a totalitarian dictatorship, the threat of a deadly virus, and a race against time to save the lives of millions.
Shadowzone
While watching intense flashes of lightning during a violent storm, Ben experiences mysterious and disturbing visions of another world, one very different from his own. In the chain of events that follow, Ben encounters Charlie, a girl from a dark version of Earth, a planet doomed by the effects of environmental catastrophe, where the leaders will stop at nothing to complete their deadly mission.
Into The Web
On a doomed version of Earth, the sinister schemes of the Ministry are moving ever closer to completion, with dire consequences for the inhabitants of two worlds. For Ben and Charlie, an unlikely alliance, unexpected reunions, and the mysterious prophecy of the Chosen One offer a glimmer of hope, with the ever-present prospect of betrayal, as they embark on an unpredictable journey into the unknown.
Black Dawn
In a dark parallel world, following attacks by its most determined opponents, the Ministry has been forced to change its plans. Yet the ruthless Director-General is prepared to sacrifice anyone to achieve an entirely new beginning, no matter what the cost. In a deadly race against time, as events spiral out of control, Ben and Charlie must risk their lives in a desperate attempt to save two worlds from destruction.
What they're saying about the Shadowzone Series.
"Shadowzone is the first book in a series and I guarantee you will be racing towards the second. An excellent read!"
"Packed with non-stop action and cliff hangers, Rose does an excellent job at leaving the reader wanting more."
"Into the Web is the second book in the Shadowzone series. Like the first it is action packed and will leave the reader wanting more."
"Black Dawn is the third book in the ShadowZone series and it lives up to the previous two. Once again Simon Rose carries interesting characters through an action packed story. Readers will love this instalment as much as the two earlier books."
Release Date: September 2018
ISBN: 978-1999466336 (Ebook)
The Shadowzone Series box set is available at the following locations: 
Amazon Canada     Amazon USA     Kobo     Barnes and Noble     Amazon UK
Amazon Germany     Amazon France     Amazon Japan     Scribd     iBooks     Smashwords
Learn more about The Shadowzone Series
Shadowzone: Book One of the Shadowzone series
Into the Web: Book Two of the Shadowzone series
Black Dawn: Book Three of the Shadowzone series