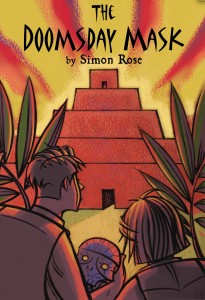 Available at: Amazon / Kobo / Barnes & Noble / Indigo/Chapters

The Doomsday Mask
The legendary crystal ceremonial mask of Kulkaan, high priest of Atlantis, was believed to have been endowed with incredible powers. In the ancient civilization's destruction, the mask was thought to have been shattered and irretrievably lost, eventually being forgotten. Long considered to be a mere myth, the mask's crystal fragments have now been found and the mask of Kulkaan reassembled, with deadly consequences for all mankind. In a desperate race against time, Josh and Erica must prevent the mask from falling intact into the hands of the shadowy Crystalline Order to save the world from catastrophe.
Published by Tradewind Books, Vancouver BC
Release Date: June 2009
ISBN 10:1896580197 ISBN 13: 978-1896580197
Ages 8-12     Grades 4-7
Learn more about The Doomsday Mask
Reviews      Read an Excerpt     Historical Background     Study Guide     Pinterest
The Doomsday Mask is available as a paperback or as an ebook at the following locations:

Amazon Canada     Indigo/Chapters     Amazon USA     Barnes and Noble     Amazon UK     Amazon Germany Amazon France      Amazon Japan
You can always buy autographed copies of The Doomsday Mask directly from the author.