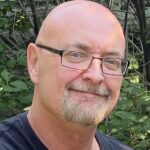 A New Year 
As we enter a new year, I'm sure that many of us are hoping that things are going to improve and that we'll soon be seeing some hope on the horizon that the worst of the pandemic may soon be over. Restrictions are still in place here and children have been delayed returning to school after the winter break. We're also in the grip of some very cold weather here in Calgary, but that's to be expected at this time of the year. It was a relatively quiet festive season here, but still very enjoyable. I hope that the year is treating you and your family well so far and that you're keeping safe and healthy, wherever you are in the world.
Muse News

The Stone of the Seer series, featuring three novels primarily set during the English Civil War, are still being finalized but I'm hoping that the first book will be out very soon. I also have a lot of work to do on the marketing and promotion this month for the first novel. If you're interested in providing a review of the first installment in the series, or featuring either the book or me as the author on your own blog or website, please let me know.
My next writing projects involve more work on The Order of Excalibur, my magical fantasy novel series set during an alternate World War II, as well as working on further books featuring the characters in the Flashback series of paranormal novels.
Author Happenings

I completed a few articles for Ross Magazine in December and anticipate that I'll be working on more this month on a variety of topics. You can view some of the already published articles on the magazine's website. I wrapped up my work as a mentor on the Creative Writing Final Project course with the University of Calgary in December, but may be working on that again in the coming months. Before that, I should be the instructor for the Grammar, Punctuation, and Spelling course next month.
Editing, Coaching, and Consulting
It was busy again in December, working with several clients on their editing and coaching projects. I've just wrapped up one project and am currently working on another for a local author. I work on novels, short stories, fiction, nonfiction, biographies, inspirational books, children's books, adults books, and many other genres. You can learn more about the services I offer and some of the projects on which I've worked on my website
My online courses for writers are also always available, including Writing Historical Fiction and Writing for Children and Young Adults. There are also many workshops for children and young adults to choose from.
Cool Links
This article explores six common writing mistakes often made by first-time authors, as well as examining different ways to fix them.
There are more tips here in this article on how not to write a novel and seven things that are sure to doom your writing.
"Read, read, read everything – trash, classics, good and bad, and see how they do it. Just like a carpenter who works as an apprentice and studies the master. Read! You'll absorb it. Then write. If it is good, you'll find out. If it's not, throw it out the window."
William Faulkner