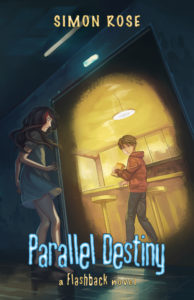 "Canadian author Simon Rose is an instructor for adults with the University of Calgary and Mount Royal University and offers a variety of in-person and online workshops for both children and adults. Not only doe he offer teaching and coaching for writers but he also is a successful author – especially for children's and YA books. PARALLEL DESTINY is book three in this Flashback series – a trilogy (so far) of time travel science fiction novels meant to stimulate the imagination of youngsters to explore not only literature but scientific possibilities that may just become realities in their lifetime.
With the aid of very fine cover art by Wiktoria Goc, Simon continues his beguiling new world with a shrewd sense of suspense: '"Dr. Alastair Hammond approached the front door. He'd been here before and recognized both the exterior of the house and the surrounding neighbourhood. He cautiously walked past the blue luxury car on the driveway, daring to believe that this time he'd finally achieved his dream. This time, they'd be here and his long painful quest would be over. As he drew closer to the door, he didn't hear any voices coming from inside the house but wasn't overly concerned. The members of his family could be out somewhere for the moment. His hand was trembling as he reached for the door handle. He took a deep breath as he gently turned the handle and eased open the door. The room looked the same as it had done the last time he'd been here. The framed photographs displayed on the wall and on top of the oak cabinet also appeared to be identical to the ones he'd seen on his previous visit. Yet to his dismay, the photographs of him and his wife looked to have been taken several years earlier. His children were also shown at the age when they'd been tragically taken from him. No wonder there had been no voices inside the house. They weren't here. He'd failed again. "DR. HAMMOND," A voice whispered in his ear. He felt the familiar sensation of dizziness as the room began to shimmer and shift around him before the usual burst of light appeared and he was back in the laboratory at the clinic. He was lying on the bed, connected to a number of machines that had been closely monitoring his vital signs. His loyal assistant, Dr. Suzanne Bethany, was standing at the side of the bed as she carefully uncoupled some of the tubes and cables. "How was it this time?" she asked. Hammond exhaled. "It was the same as before, well almost. The car on the driveway was different and the house seemed that way at first too, but once I was inside, the photographs were the same as they were the other times." He sat up on the bed as Bethany handed him a glass of water. She was in her mid-forties, tall and slim with dark brown hair cut in a bob. She had a habit of wearing her dark-framed glasses perched on the edge of her nose. She'd been with Hammond for many years, and unlike his former colleagues in the medical profession, she shared his vision and his firm belief in the existence of parallel realities.'
And so we continue the world of Max, well described in the book's synopsis – 'Max is haunted by a girl with green eyes. He ignores the odd visions, but then he meets the girl face to face. Her name is Julia, and she and Max knew each other once, in another world…and now she needs his help. The borders between realities are thinning, and Alastair Hammond's experiments into the existence of parallel universes are dangerous and destructive. Marooned within a bewildering series of alternate timelines, Max and Julia are forced to fight for their own survival and to save the very fabric of reality from Hammond's deadly scheme.'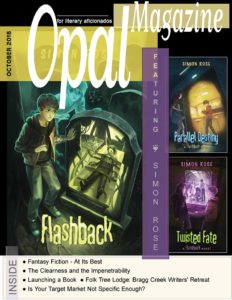 A fine continuation for this series. Simon has the genre down pat!"
The San Francisco Review of Books, September 2018
"This is another great book written by Simon Rose one of Professor Owl's favourite authors. We have been honoured to review several of his books which we have always found to be an entertaining read. This was certainly another great read.
Max is haunted by a girl with green eyes. He ignores the odd visions, but then he meets the girl face to face. Her name is Julia, and she and Max knew each other once, in another world…and now she needs his help.
The borders between realities are thinning, and Alastair Hammond's experiments into the existence of parallel universes are dangerous and destructive. Marooned within a bewildering series of alternate timelines, Max and Julia are forced to fight for their own survival and to save the very fabric of reality from Hammond's deadly scheme. This is an excellent book for teenagers and will appeal to both boys and girls. I used to find books that involved time travel confusing and too farfetched. Flashback series is the exception. Simon Rose manages to keep it simple enough that the reader doesn't need to get caught up in the details. They simply get to enjoy a good story."