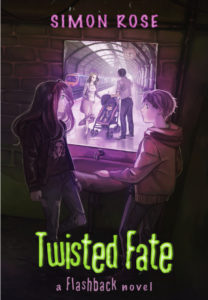 "Twisted Fate kept me on the edge of my seat the whole time. Time-travel, secrets, visions, paranormal activity, psychics; there isn't anything this book doesn't explore. I would highly recommend going on this adventure. The book is not only well written, it provides many twists that you won't see coming!"
Amazon, May 2017
"Max was always told his mother jumped in front of a train, but on his fifteenth birthday he receives a box of her belongings. Suddenly he starts having dreams and visions. Is it possible she was pushed? Could he prevent the whole thing from happening and change his life? Twisted Fate is a tale full of time shifts, paranormal and nonstop adventure.
I will admit I am hesitant to rate time travel books highly. They are often confusing or far too easy to pull apart. However I have now read a few of Simon's books and have to say he does time travel well. Once again he has produced a book full of action that is believable and easy to follow. Twisted Fate is a great read."
Ashley Howland, June 2017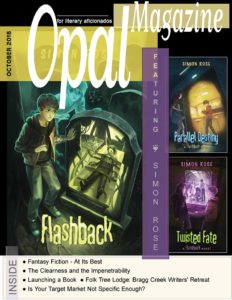 "A tattered photograph. A lock of hair. Keepsakes of his mother have triggered strange dreams for Max, dreams of a dank prison cell and an oddly familiar teenaged girl. But it's the disturbing vision of a train accident that convinces Max to investigate his mother's death.
During his investigation, Max discovers a connection with Julia, a classmate with dark secrets of her own. Her mother also died mysteriously and was linked to Project Mindstorm.
I would highly recommend going on the adventure in "Twisted Fate" with many twists and turns. Time-travel, visions of paranormal activity, secrets and psychics; a book that explores everything.  Once I picked the book up I could not stop reading until I finished it.  I always love to read Simon Rose's books, they are great to read for most ages.  Looking forward to his next book."
Amazon and Professor Owl's Book Corner, June 2017
"'Julia was now suspended three feet off the ground, fighting for breath, as if an invisible hand was gripping her throat.'
Canadian author Simon Rose is an instructor for adults with the University of Calgary and Mount Royal University and offers a variety of in-person and online workshops for both children and adults. Not only doe he offer teaching and coaching for writers but he also is a successful author – especially for children's and YA books. TWISTED FATE is book two in this Flashback series – a trilogy (so far) of time travel science fiction novels meant to stimulate the imagination of youngsters to explore not only literature but scientific possibilities that may just become realities in their lifetime.
With the aid of very fine cover art by Wiktoria Goc, Simon continues his beguiling new world with a shrewd sense of suspense: '"Max could feel his toes dragging on the rough concrete floor as he moved along the darkened corridor. Some of the overhead lights were broken and flickering. His arms were being supported across the shoulders of two other people. He felt distinctly drowsy but still noticed that the men on either side of him were wearing what appeared to be drab coloured military uniforms. They were speaking a language that Max couldn't understand. Through half-closed eyes he saw a number of signs on the walls written in a strange alphabet. One of the men released Max as they reached a door. The man took a collection of keys from his pocket and unlocked the door. As soon as it was open, the man led Max inside the dimly lit room and shoved him onto a filthy mattress that lay on the floor against the wall beneath a high, barred window. The man left, the door clanging shut behind him. As the key turned in the lock, Max struggled to his feet and staggered over to the battered and stained sink in the corner of the room. When he looked up and gazed into the cracked mirror he saw a girl's face staring back at him. MAX SAT UP in bed, struggling to catch his breath. He looked around in panic before he realized that he was in his own room. It had just been a dream, although Max had no idea what it had been about. Once he'd recovered his composure he remembered that he'd been thinking about a whole range of issues before he'd fallen asleep. He'd been talking to his dad and grandmother the previous evening about his mother. Max's thoughts had also drifted to the events of a few months earlier at the start of summer vacation. He'd accepted that his strange experience in the role of David Dexter was probably always going to remain somewhere deep in his subconscious. Although the timeline had been changed as a result of Max's actions in the past, he still recalled everything that had happened. The psychic Deanna Hastings hadn't been able to explain it and had said that Max might simply forget everything as time progressed or he might not. Max hadn't been in contact with Deanna since they'd parted ways after saving the adult David from Kane at the Dexter family home but Deanna still often crossed Max's mind.'
And so we continue the world of Max, well described in the book's synopsis – 'A tattered photograph. A lock of hair. Keepsakes of his mother have triggered strange dreams for Max, dreams of a dank prison cell and an oddly familiar teenaged girl. But it's the disturbing vision of a train accident that convinces Max to investigate his mother's death. During his investigation, Max discovers a connection with Julia, a classmate with dark secrets of her own. Her mother also died mysteriously and was linked to Project Mindstorm. When Max learns that the project has been revived, he and Julia embark on a seemingly impossible mission across multiple, shifting timelines. On the run and pursued at every turn by the powerful and ruthless Kane, Max and Julia engage in a desperate race against time to alter the fate of Max's mother and transform their own destinies.'
A fine continuation for this series. Simon has the genre down pat."
The San Francisco Review of Books, September 2018