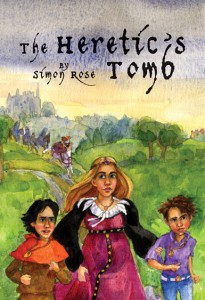 "The book is a sweeping historical drama involving witchcraft, religious zealotry, life and death … The Heretic's Tomb is a fast-paced tale of intrigue, sorcery and adventure, set in a fascinating period of history." The Calgary Herald
"A well-written combo of science fiction/fantasy with the historical novel. This novel explores the lifestyles of the Middle Ages, specially during the time of the Black Plague. The easy to read style and diction make this an excellent choice for ages 7-10 as well as someone who might be looking to explore a new genre." Goodreads
'The Heretic's Tomb bridges the gap between the 14th century and current times as it takes the reader back in time to the Black Death or more commonly referred to as the plague. The first sentence puts the reader right in the middle of it. "Lady Isabella Devereaux watched black plumes of smoke rise from the nearby village of Thornbury. More bodies were being burned."
The first half of the story sets the stage with suspicions of heresy against Lady Isabella who possess an amulet, believed to have magical powers. The amulet is coveted by Sir Roger de Walsingham, seasoned warrior for King Edward. Sir Roger has evil plans for the amulet and will do almost anything to possess it.
The modern day protagonist, Annie, finds herself swept back into time when she falls down an old chimney shaft and finds a piece of metal with some of the same markings as the family heirloom around her neck. What happens next is astonishing.
Filled with suspense and the ruthless harassment against Lady Isabella by Sir Roger, The Heretic's Tomb depicts the hardships that people faced during that time. Medical knowledge was at a minimum and skepticism of anything new permeated among rich and poor alike.
Simon Rose method of combining two different worlds is seamless. Rose keeps the focus narrow so the story line flows smoothly. This is a great fantasy with realistic facts and is not far reached. Rose has created a strong balance between the two characters. Middle grade children will enjoy the adventure as Annie tries to help Lady Isabella and stay out of Sir Roger's way." Amazon
"Simon Rose's Heretic's Tomb takes you on a historical journey to the time when the Black Death (1348) held England in it's grip. While visiting an archeological site, Annie falls down an old chimney shaft that transports her from present day to that terrible period. Rose's ability to take the reader back in time is flawless and the story is filled with suspense that keeps the reader engaged and wanting more. He does an exceptional job of wrapping historical facts with fantasy, leaving the reader with a clear picture of some of the hardships of the time. Strong character development allows the reader to step into the character's shoes and experience the story first hand. Overall, it was a fun read that I would highly recommend." Amazon
Reader Comments
"I could almost see it happening before my eyes! I would love to see a sequel to The Heretic's Tomb."
"I absolutely love it!!! I can't out the book down and when I do I picked it back up the next second!! I can't wait to finish The Heretic's Tomb."
"I started reading The Heretic's Tomb and it's an amazing read and I'd recommend it to all."
"Out of one to ten, I would rate it a nine. I really liked it because it's an adventure book."
"This book was very entertaining and kept me reading for a while. The explanation of the setting was excellent and the storyline with the plague was awesome."