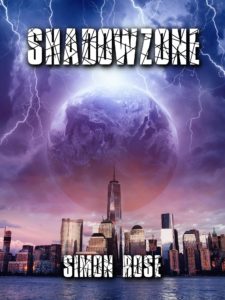 "In Shadowzone, the first book in the Shadowzone series, Rose sets up the tension in this parallel Earth story in which a virus is unleashed and affects one Earth but not the other. The alternating point of view characters from both Earths provide insight into what's occurring. The reader has a fuller picture than the characters. And yet there is enough hidden for the reader to keep reading to find out what happens."
"Time travel, alternate worlds, and societal sub-cultures are blended into a great plot, and a gripping and relevant read. The environmental stewardship aspect of this story echoes our current day challenges, as do the almost prescient references to a dangerous virus. Characters were well drawn and the reader is cheering for their success. The three books in the series flow smoothly together. A great read for middle school ages and up, to both engage interest and build vocabulary. Highly recommend this series!"
"Charlotte and Charlie have lived alone for about a year now, after losing James—a beloved father and husband. Charlotte, a highly authorized researcher for the Ministry, has been tasked with working on a virus. Not only have they been working on a virus, but they have a way to get into a parallel Earth, which will allow them to inject the virus into the inhabitants there. This plan warrants the deaths of millions of people on this new Earth, just so they can take over. Charlie, Charlotte's daughter, learns of what the Ministry is up to and makes it her mission to save the boy who they are planning to infect. With Charlotte being the one assigned to go through the gateway and infect the boy, she has plans of her own which don't include any deaths on her hands. Unfortunately, nothing is ever as it seems. The gateway starts malfunctioning and both Charlotte and the boy are transported back to their Earth, but now Charlotte is in danger of being outed for a traitor! She never wanted to hurt anyone, least of all the boy who she was supposed to infect, but in this world, she knows that Ben is in real danger. With the help of friends from an environmental group known as the Greens, can Charlotte, Charlie, and Ben find somewhere safe to hide until they can figure out how to stop the Ministry—or is it too much to ask for—to save their world from complete destruction?
Rose has an interesting story with some original and creative concepts about a parallel Earth. With the world ending as they know it, everyone is in full panic and Rose conveys this sense of urgency fairly well. In Shadowzone, the characters are all thrown together, meaning that most of the characters didn't really have a back-story. Since this is a short installment, the first few chapters were off to a little bit of a rocky start, but as soon as both main characters were introduced to each other—everything started to fall into place quite nicely. The pace is fast and steady, allowing the book to be an easy page turner and the cover also draws attention to the relevance of the story-line. If you are a reader of science fiction, action and adventure, and young adult dystopian fiction, you may thoroughly enjoy this light read. Shadowzone is the first in the Shadowzone Series; therefore, the reader is able to dive right in."
Amazon, July 2019
"Time travel, alternate worlds, and societal sub-cultures are blended into a great plot, and a gripping and relevant read. The environmental stewardship aspect of this story echoes our current day challenges, as do the almost prescient references to a dangerous virus. Characters were well drawn and the reader is cheering for their success. The three books in the series flow smoothly together. A great read for middle school ages and up, to both engage interest and build vocabulary. Highly recommend this series!"
Amazon, July 2020
"Charlie and Ben live in different worlds. Charlie's is condemned to doomsday after an asteroid destroyed the environment. Ben's is their target. During a storm they see flashes of each other's world and fall into a dangerous adventure. They discover that Ben is the key to a takeover plot, where the leaders of Charlie's worlds will destroy everyone on Ben's then move over.
Shadowzone is the first book in a series and I guarantee you will be racing towards the second. The characters are intriguing, but even more interesting is the plot. The idea of an environmental catastrophe being the turning point in the existence of two parallel worlds draws in the reader. As Charlie and Ben sink deeper into the plot, the reader will delve deeper into their world.
An excellent read!"
Ashley Howland and Amazon, September 2017
"This is the first book of a series by one of my favorite authors. Although at first, I found the book a little slow to get into, once the first couple of chapters were read, I found the usual exciting story that I could not put down until it was finished. The ending left me ready to read the next book titled "Into the Web."
Amazon, Kobo, and Professor Owl's Book Corner, October 2017
"The aptly-named 'Shadowzone' is the first in a series by Canadian author, Simon Rose. We see the action primarily through the eyes of Charlie, a girl who lives on a dystopic earth and Ben, a boy who inhabits a far more pleasant place, environmentally akin to the world we know.
As we join the story, the two parallel universes look destined to merge as the barrier between them becomes weakened. The framework for the plot is conveniently explained with some useful backstory, courtesy of an inquisitive Charlie.
I found the early chapters are a little disjointed as we moved between the two threads but I settled into the story after the main characters made contact. We find out quickly that Ben and Charlie are of school age but I'm not sure we're actually told how old they are, unless I missed it. However in view of their general levels of intelligence and abilities, I would assume they are supposed to be at least twelve.
Most of the action takes place on Charlie's home planet which is reeling from the after-effects of a natural disaster. The author has painted a very atmospheric picture of the destruction and decay of this bleak, pollution-filled world which is potentially heading for oblivion and this provides an excellent backdrop. Most of the population are controlled via a variety of unpleasant means and we experience a sense of foreboding for their future.
I think the characters could do with a little more depth but as this is the first in a series, there is time for them to develop. Several aspects of the plot are rather contrived but if the audience doesn't overthink it, the tale is a fun read with some interesting ideas and it will appeal to pre-teens or teenagers who enjoy fantasy and sci-fi.
I have an eight year old bookworm who liked the concept and coped well with the prose but struggled a bit with some of the plot. I'm sure the novel is aimed at slightly older readers but nonetheless, he is looking forward to another instalment.
At 168 pages, the author has delivered an action-packed adventure which is quite short and straightforward. Parents need not be concerned regarding content as, whilst there are moments of heightened suspense, there is little overt violence and no adult themes.
There are clearly more adventures ahead for Ben and Charlie and if Simon Rose can maintain this standard, I think his target audience will thoroughly enjoy finding out what happens next. I award 'Shadowzone' four stars."
Whispering Stories, November 2017
"Shadowzone is almost like a YA mystery thriller mixed with some parallel universes. While there are interesting characters, it's mostly plot based and proves to be a fast read.
The lightning storms have been showing Ben visions – of a girl and disappearing cars. Thinking they're just hallucinations of the rain, Ben doesn't think too deeply about them, until he encounters the mysterious girl, Charlie, who tells him she is from a different version of Earth. And that Earth is watching theirs and desperately trying to fulfill their mission.
I liked the concept and the world building here. I don't read enough parallel world books, and this was a nice YA one. Shadowzone focuses mostly on action and the world. There are cleverly disguised information sections for us to grab hold of. And I loved the ways in which this book had a subtle Orwellian twist to it.
While there seems to be almost a 'chosen one' trope, this book seems almost familiar – not predictable, but reminiscent of some other YA books I've read. Ultimately, I am more of a character person, so this book was entertaining and a fast read, but not entirely my style. That being said, if you are searching for a YA novel about parallel worlds and one that has some neat world building touches, this could very well be for you."
Utopia Star of Mind, December 2017
"Shadowzone follows the story of Charlie, a young girl who lives in an alternate reality of Earth—one where the Earth's environment has been almost completely destroyed and left Earth to be barely habitable for human life. Charlie's mum works for the reining government organization that, luckily, has access to a portal that could give their people access to another reality of Earth—one that hasn't been environmentally destroyed. Though the question remains: How will the government use the portal? There are many ways they could, from generous or amicable to selfish or sinister. The Shadowzone world teaches us what could potentially happen in two drastic scenarios: if Earth's environment is completely destroyed, and if a world-leading government had access to portal technology. Both of those sound terrifying to me—especially in current times. This is book one of three in the Shadowzone series, and it ends with a cliffhanger—we'll have to read books two and three to see how the story concludes. This intriguing story paired with compelling dialogue and strong female characters makes a great read for young girls, and a quick, engaging read for adults. Books two and three are already out, and they're definitely on my to-read list."
Scribbles, Quibbles, and Scrawlings, May 2018.
"In this fast paced novel flashes of lightning from a violent storm leave Ben seeing images from another world. The reader quickly learns that Ben is seeing a girl named Charlie from a parallel universe. It doesn't take long for their lives to collide and become entwined as they work to fight against the leaders who are on a mission to complete a deadly assignment. Packed with non-stop action and cliff hangers, Rose does an excellent job at leaving the reader wanting more."