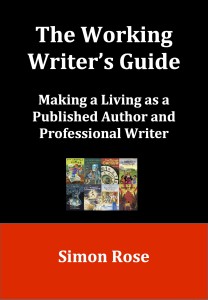 The Working Writer's Guide
The Working Writer's Guide examines the professional life of those who have chosen to pursue writing as a career. People often believe that either all published authors earn millions or that it's impossible to make a living as a writer.
It's certainly possible to make a living based on your writing, but a number of different revenue streams are required. In reality, most full-time writers have multiple sources of income.
Book sales and royalties
Teaching and and workshops
Coaching and editing
Business and technical writing
Websites and social media
Public speaking and events
If you're committed to making a career as a full-time, professional writer, you need to widen your horizons.
The Working Writer's Guide is available at the following locations:
Ebook
Amazon Japan         Smashwords         Barnes and Noble         iBooks     Scribd
Amazon Canada      Amazon USA        Amazon UK        Amazon Germany      Amazon France

Reviews
"It's not easy making a living as a writer. Gone are the days when book royalties alone would constitute a substantial income. Unless you're one of those writers who can instantly make it to the top as a best seller and keep your books on the best selling list, then you will have to consider supplementing your income either with a day job and/or doing a number of other things loosely related to your writing.
Simon Rose has published quite a few books, mostly for children, both fiction and nonfiction. He has also written numerous articles and several self-help guides to assist the fledgling and the established writer hone their skills as a writer and actually make some money from it. In his book, The Working Writer's Guide: Making a Living as a Published Author and Professional Writer, Simon takes the reader/writer through many possible means of making money and making a career out of writing.
There are the obvious suggestions: doing paid speaking engagements in various public venues (including schools if your book is directed at a young audience), and writing articles for paying publications (both print and online). Then he suggests other possible income generating sources: writing content for advertising material for different companies, content editing, proofreading and copy editing the works of other writers as well as documents for various companies. There's also money to be made giving writing workshops, teaching writing to students of all ages, and running summer writing camps for young people.
The bottom line is that there are means to make a writing career feasible, even if you never do become a best selling author. But, like Simon says, "You may of course become very successful and not need this advice, but most authors engage in some or all of the activities described above in order to earn a living. Enjoy the journey." And that's what's most important: we as writers must enjoy our writer's journey. A great resource for beginning and established writers."
Emily-Jane Hills Orford for Readers' Favorite
"Name an author who doesn't wish to make a living out of writing… Well the Working Writer's Guide by Simon Rose is a great way to get some ideas. Simon has some excellent ideas to gain employment and he also has a wealth of experience. This is certainly a good resource for writer's looking to advance their career."
Ashley Howland, June 2015