I've provided substantive and copy editing services for many other writers over the years. The editing projects have included novels, short stories, fiction, nonfiction, biographies, inspirational books, and many other genres.
The editing projects have involved a comprehensive content assessment, including comments and suggestions regarding characterization, setting, dialogue, believability, structure, plot, and language, in addition to corrections to grammar, spelling, punctuation and many other details that writers are sometimes unaware of. Some of the work has subsequently been self-published by the authors or submitted to publishing houses and I'm pleased to have been part of the process to bring these projects to life.
I'm a member of the Calgary Association of Freelance Editors, have served as the Writer-in-Residence with the Canadian Authors Association, and am a writing instructor at the University of Calgary.
The Jacob Wheeler Mysteries by Lara Malmqvist follow the adventures of a young aspiring detective following in the footsteps on his famous grandfather.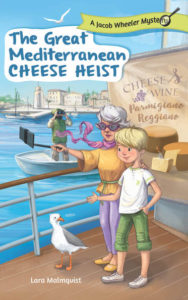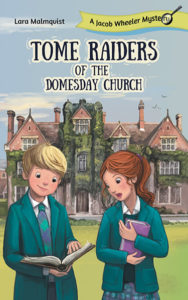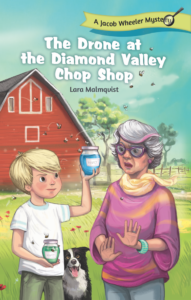 Twelve Horses for Julia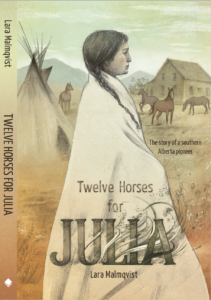 Nineteenth-century living wasn't easy, as settlers struggled to tame the land and make a living from it for their growing families, with little or no help from a government stretched far too thin. For young Julia and her family, forced off their land by circumstances beyond their control and heading west along the Oregon trail, the hardships they had grown almost accustomed to were about to become nearly unimaginable. Ambushed by Blackfoot Indians, Julia and her siblings are captured by warriors and brought back to their encampment, and adopted as members of the tribe against their will―the fate of their real parents uncertain and terrifying to contemplate. Years pass, and Julia faces countless challenges and relentless change, all with a determination and strength forged from hardship under the prairie sky. As she grows to adulthood, she realizes that she has to somehow make her way in a world of which she has never truly been a part, being neither truly white nor truly Indian.
It is a journey that will take her from freedom to captivity, from joy to despair, and come around full circle more than once before she can even hope to find her true home and put down roots that might span future generations.
The Phoenix and the Witch (The Rise of the Light Volume 3)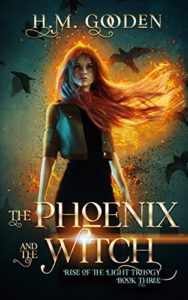 Fresh from their triumph against Dub in San Francisco, the girls are content to return to their normal lives, unaware that their fight against the darkness is not over. Although they succeeded in destroying their previous adversaries, another threat has risen in a far away country. This time, they must travel to Edinburgh to confront the darkest of all evils.
As the conclusion to this trilogy, this adventure will set the course for everything in their lives and they will learn that even their friends may not be what they seem.Will they succeed in fighting back the dark or will they be left irrevocably changed?
The Stone Dragon (The Rise of the Light Volume 2)
Cat has finally settled into her new town and is happy with her life just the way it is. Until the day that her friend Evelyn shows up on her front step, with a recurring nightmare that began after they defeated Declan. A dark stranger surrounded by fire and destruction tortures her every night, and in order to help her, Cat must discover the truth about the dark man and his origins.
This time, they must face a much older evil on new ground. With the addition of a new ally, the girls will stand against the darkness together. Will they be victorious, or will they fall to his power the way so many others have?

Dream of Darkness (The Rise of the Light Volume 1)
Cat McLean is a sixteen year old girl who moves to a new town with her older sister Vanessa. After a near-fatal car accident, Cat wakes to find that she can see auras and heal others. But she also discovers an ancient evil that means to destroy her new town of Valleyview. She must join forces with her sister and a new friend to defeat it, or die trying.
Will she learn how to harness her new powers before the darkness comes for them? Or will she succumb to the darkness she fears?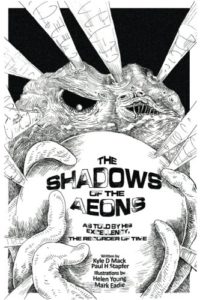 The Shadows of the Aeons
The history of the future depends on the warriors of time that must first rescue the future of the past. History just got interesting.
The Order of Time has been twisted and the fabric of reality is torn when a sadomasochist fiend known as Das Fuhrer gains immense power and has shrouded the lands in darkness and intends to rule the celestial orb known as The Earth.
Cheeki Loses a Tooth
Join Cheeki the triceratops as she manages a variety of emotions when her first tooth is loose. Your child will feel better, understanding that all kids – even dino kids – experience similar feelings of fear, excitement and worry.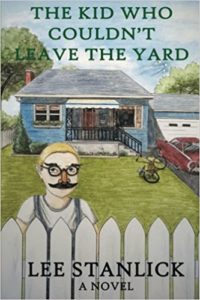 The Kid Who Couldn't Leave the Yard
Do you believe it's possible for two people who haven't met to share a dream? Jack Trapper is a young boy suffering through withdrawal from a powerful drug incorrectly prescribed to sedate hyperactivity. When he dreams of saving a young girl from a molester who is chasing her, his best friend tells him that he's had a 'true dream,' that the girl from his nightmare is real, she's had the same dream and the attacker is really after Jack. During a wild winter storm in 1904, a young Daniel Trapper is accidentally shot while searching for an outlaw hideout in the forest named Skunk's Misery. Freezing and near death, he's rescued and taken home by a mysterious group of men on horseback and a young native girl named Rose. Other than Daniel's family, no one believes his story and they never learn who his rescuers are.
Sixty-three years later, his grandson, Jack Trapper, has a nightmare and reveals to Daniel events from his rescue that he couldn't possibly know. What part does Jack's best friend, Pauly, a young boy with cerebral palsy, play in his grandson's revelations? Are Jack's hallucinations more than they appear and is Jack really in danger? Are shared dreams real, and are all of our lives as interconnected as Pauly says? Learn about the astonishing sacrifice and love between two boys, and the fantastical series of events that may finally lead Daniel to the answers he's been searching for his entire life.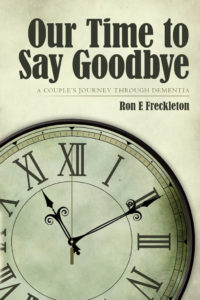 Our Time to Say Goodbye
In September of 2014, to rid himself of the enormous grief that he experienced after the death of his loving wife of fifty-eight years, 81 year old Ron Freckleton decided he would write an account of the final days of their loving partnership. The essay was intended to circulate between family and friends to help them understand the love this couple had for each other and of the desolate, all consuming sadness that he felt when she passed. Reflecting on the many happy memories that he had related to his Joanie as her life faded away in those final sixty-one hours, Ron experienced a huge cathartic reaction and decided to write of their whole wonderful life together. The couple travelled extensively but spent the major portion of their married life in Calgary, Alberta, Canada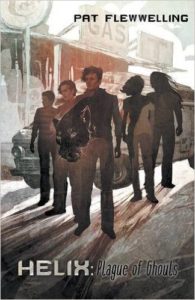 Helix: Plague of Ghouls
Ishmael took something more dangerous than refugees out of that quarantine, but it's nothing compared to what awaits outside. Because of his crimes, his breech of quarantine, and his new and worrisome symptoms, Ishmael and his rescued Pack are pariahs among werewolves, loathed, and under constant suspicion.
And yet, when bodies turn up in small-town Ontario, the Wyrd Council splits up Ishmael's Pack and sends him to investigate. He's hurried away from the safety and isolation of Varco Lake, and thrust into an anxious, tightly-knit community full of surveillance cameras, cell phones, and bad memories. Just when he grasps the enormity of the disaster waiting for him in Halo County, Ishmael realizes what's in his blood, and where it really came from.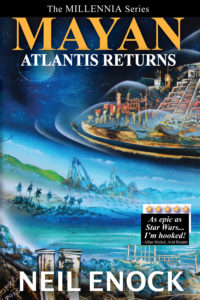 Mayan – Atlantis Returns by Neil Enock
Neil Enock is an author, actor, screenwriter, filmmaker and creator/host of the million+ viewed TrainTalk.TV iTunes podcast. Neil tells original stories in everything he does from his written work to his hand-made cribbage boards.
Neil Enock's second novel is an epic tale of ancient civilizations and the return of a legendary city. More that 5,000 years after they began planning for their voyage, the inhabitants of the Mayan and Minoan ship Atlantis returns to recolonize the world, after skipping 'the end' in 2012. There's just one small problem…we're still here!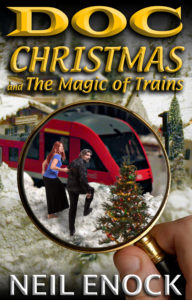 Doc Christmas by Neil Enock
While trains have been a part-time hobby since he was a boy, in his first novel, Doc Christmas, Neil gives trains the full-time leading role in making Christmas happen. When not writing, Neil can be most often found on one side of the camera or the other, filming something around Calgary with some or all of his family in tow.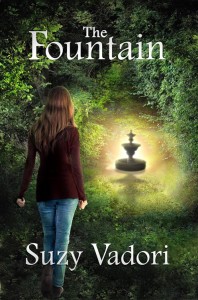 The Fountain by Suzy Vadori
Suzy Vadori lives in Calgary, Canada with her husband and three children and is very involved in the local writing community.
Currently, she is the Program Manager, Young Adult/Children's Programming for When Words Collide (WWC), an annual literary festival held in Calgary each August.
The Fountain is Suzy's first Young Adult novel.
Emperor Norton's Treasure Hunt by Shayne Durkin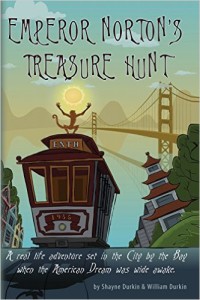 Emperor Norton's Treasure Hunt is a real life adventure set in the City by the Bay when the American Dream was wide awake. The story takes place in 1955, the year that the San Francisco Chronicle launched this phenomenal promotion to win the city's infamous newspaper wars.
Full of fun and fantastical elements, ENTH is a joy to read. Complete with King FuzzBuzz the singing spider monkey, a zonkey named George Washington the Fifth, a pair of Macaws, and an adorable baby seal named Trumpet, this story keeps surprising with every turn. The zoo animals try to thwart a thief who tries to steal Emperor Norton's treasure, while unaware journalists, zoo employees, and the citizens of San Francisco all join forces to help in this historical treasure hunt.
Capable You by Evaline Aboka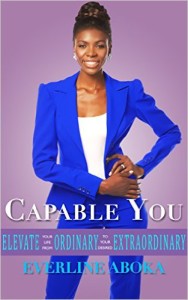 Capable You is a self help book encouraging individuals to let go of mediocrity and start experiencing all-round success in their lives.
Everline Aboka is an author, accredited speaker and coach on affirmations and visualizations, self-awareness, integrity, positive thinking, self-esteem, success, dreams, destiny, compassion, passion, optimism, talent utilization, fashion and modelling, child protection, courage, forgiveness, communications, social values and philanthropy.
10 Marriage Toxins: What's Poisoning your Relationship
In 10 Marriage Toxins – What's Poisoning Your Relationship? Jeannette Bourgeault shares the stories and experiences of real couples, allowing you to self-identify what might be poisoning your relationship, guiding you towards resources that may give you a deeper understanding of why these challenges exist within relationships and providing you with tips on how to deal with the current situation right away. Your marriage can be loving, rewarding, healthy, and fulfilling, but only if you identify the toxins poisoning your relationship. If you are willing to invest the time to explore and are open to identifying with these couples, then this book is for you.
Making Cents: A Simple Guide to Investments
Learning to invest can be overwhelming, but it doesn't have to be. This book was designed to build a foundation for your investing knowledge.