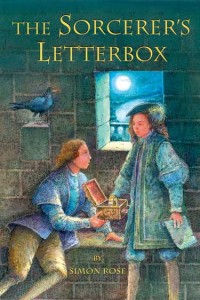 Available at: Amazon / Kobo / Barnes & Noble / Indigo/Chapters

The Sorcerer's Letterbox
In a hidden drawer in the base of an old wooden box, Jack discovers a letter from a boy calling himself Edward. Penning a reply, Jack is astonished to be corresponding through time with the boy king Edward V, one of the famous Princes in the Tower, murdered by King Richard III. Travelling back in time, Jack attempts to rescue Edward V and his brother from their fate, but is soon fighting for his life in the terrifying London of 1483.
Published by Tradewind Books, Vancouver BC
Release Date: April 2004
ISBN 10: 1-896580-52-1 ISBN 13: 978-1896580524
Ages 8-12     Grades 4-7
Learn more about The Sorcerer's Letterbox
Reviews      Read an Excerpt     Historical Background     Study Guide     Pinterest
The Sorcerer's Letterbox is available as a paperback or as an ebook at the following locations:

Amazon Canada     Indigo/Chapters     Amazon USA     Barnes and Noble     Amazon UK     Amazon Germany Amazon France     Amazon Japan
You can always buy autographed copies of The Sorcerer's Letterbox directly from the author.