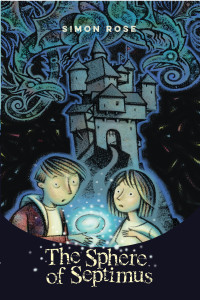 Available at: Amazon / Kobo / Barnes & Noble / Indigo/Chapters

The Sphere of Septimus
Eric isn't too happy when he has to spend the summer with his eccentric father, Septimus Trinket, in the backwater village of Middle Wogglehole, deep in the heart of rural Derbyshire.
In the isolated village, however, things are not quite what they seem. Eric meets Jessica, who tells him of the legends and mysterious stories that have surrounded Middle Wogglehole for centuries. When they discover Septimus' shocking secret, Eric and Jessica are soon fighting for their lives against the forces of evil, in a world very different to their own.
Published by Tradewind Books, Vancouver BC
Release Date: October 2014
ISBN 10: 1896580750 ISBN 13: 978-1896580753 

Ages 8-12     Grades 4-7
Learn more about The Sphere of Septimus
Reviews     Read an Excerpt     Background and Inspiration     The Land of Koronada     Study Guide
The Sphere of Septimus is available as a paperback or as an ebook at the following locations: 

Amazon Canada     Indigo/Chapters     Amazon USA     Barnes and Noble     Amazon UK     Amazon Germany  Amazon France      Amazon Japan
You can always buy autographed copies of The Sphere of Septimus directly from the author.