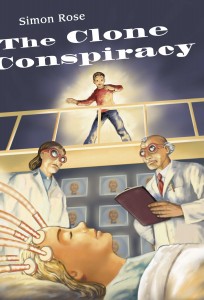 Available at: Amazon / Kobo / Barnes & Noble / Indigo/Chapters

The Clone Conspiracy
At the dawn of the twenty-first century, nervous governments around the world reacted quickly to pass legislation banning human cloning. Panicked as technology rapidly advanced, they didn't realize that the genetic genie had already escaped from the bottle.
When Luke's best friend Patrick vanishes and the police quickly close the case, Luke is determined to uncover the truth. Tantalizing clues lead Luke and Patrick's sister Emma to LennoxGen, where they stumble across a shocking international conspiracy with catastrophic consequences for the future of mankind.
Published by Tradewind Books, Vancouver BC
Release Date: June 2005
ISBN 10: 1-896580-80-7 ISBN 13: 978-1896580807
Ages 8-12     Grades 4-7
Learn more about The Clone Conspiracy
Reviews      Read an Excerpt     Study Guide
The Clone Conspiracy is available as a paperback or as an ebook at the following locations:

Amazon Canada     Indigo/Chapters     Amazon USA     Barnes and Noble     Amazon UK     Amazon Germany Amazon France     Amazon Japan
You can always buy autographed copies of The Clone Conspiracy directly from the author.