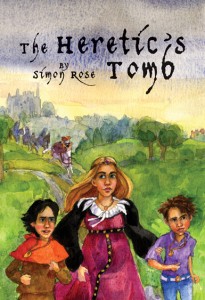 While exploring a medieval archaeological site containing the ruins of an ancient English abbey, Annie discovers the long-forgotten tomb of Lady Isabella Devereaux, who had been condemned to death as a heretic in 1349. When Annie curiously examines a mysterious amulet she finds in the tomb, she is suddenly sent hurtling back to the Middle Ages, encountering sorcery, treachery, treason and the ghastly horrors of the Black Death.
Published by Tradewind Books, Vancouver BC
Release Date: September 2007
ISBN 10: 9781896580920 ISN 13: 978-1896580920
Ages 8-12     Grades 4-7
You can always buy autographed copies of The Heretic's Tomb directly from the author.
Paperback $9.95     
Learn more about The Heretic's Tomb
Reviews      Read an Excerpt     Hear an Excerpt     Historical Background     Medieval Medicine
Here are just a few places where you can buy The Heretic's Tomb as a paperback or as an ebook
Amazon Canada     Indigo/Chapters     Amazon USA     Barnes and Noble     Amazon UK     Amazon Germany Amazon France      Amazon Japan