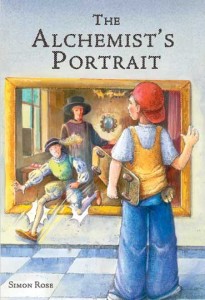 A school trip to the art gallery at the city museum leads Matthew into an eerie meeting with Peter Glimmer, imprisoned inside his own portrait by his villainous uncle in 1666. Entrusted by Peter with recovering the one object that can save the world, Matthew is sent hurtling over 300 years into the past. Encountering magic, mayhem and murder, Matthew also has to contend with Peter's uncle, the ruthless and seemingly immortal Nicolaas van der Leyden, at every turn, in a desperate race through time to save the future.
Published by Tradewind Books, Vancouver BC
Release Date: May 2003
ISBN 10:1-896580-29-7 ISBN 13: 978-1896580296
Ages 8-12     Grades 4-7
You can always buy autographed copies of The Alchemist's Portrait directly from the author.
Paperback $9.95     
Learn more about The Alchemist's Portrait
Reviews     Read an Excerpt     Hear an Excerpt     Historical Background     Study Guide     Puzzle
Here are just a few places where you can buy The Alchemist's Portrait as a paperback or as an ebook
Amazon Canada     Indigo/Chapters     Amazon USA     Barnes and Noble     Amazon UK     Amazon Germany Amazon France      Amazon Japan