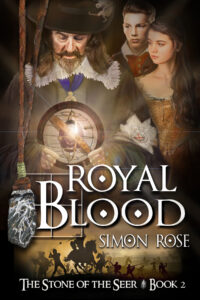 Non Stop Magical Action
Royal Blood: Book two in the Stone of the Seer is even more exciting than the first story. This historical fantasy book has adventure, action and suspense. Lady Elizabeth Usborne, Kate and Tom are now in London during King Charles trial in 1649.
They are still being hunted down by Daniel Tombes, the witch hunter. Their adventures continue with glimpses of the future to guide them. The reader will be left wanting more as each part of the action unfolds. I look forward to the third book, and more magical action.
Stone of the Seer is an exciting historical fantasy series of adventure novels
In Royal Blood, book two in the series, Lady Elizabeth Usborne, Kate, and Tom, along with the tempus inspectoris and the mysterious black Viking stone, are in the heart of London in early 1649, as King Charles prepares to face his accusers at his trial in Westminster Hall, while Elizabeth, Kate, and Tom desperately attempt to evade capture by Daniel Tombes, the witchfinder. I really enjoyed this book; it was full of action and kept one in the story right up until the end. Elizabeth, Kate, and Tom had so many things happening to them in the story, and the ending left one thinking what else could happen to them and will there be a third book in this series. I hope so and I am sure there will be others wanting to know what comes next.