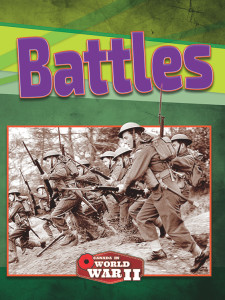 This book is part of the Canada in World War II series and examines the battles in which Canadians fought during the conflict. The book explains the background to World War II and covers the Dieppe Raid, the Italian Campaign, D-Day and Juno Beach, and the Liberation of the Netherlands, and features details of battle preparations, weapons, charts, statistics, and a series of profiles of Canadian commanders.
Published by Weigl Publishers
Release Date: 2016
ISBN: 978-1-4872-0314-6 (hardcover); 978-1-4872-0315-3 (softcover)
Ages 8-12     Grades 4-6
Reviews
"This series is an excellent introduction to, and overview of, Canada's participation in World War II."
You can read the full review of all the books in the series at the CM Magazine website.