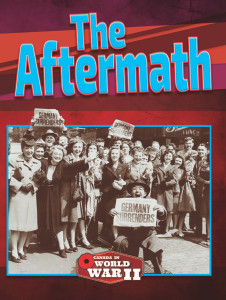 This book is part of the Canada in World War II series and takes a look at what happened in the years following the conflict. The book explains the background to the end of World War II and covers the final defeat of the Axis, the beginnings of the Cold War, the return of soldiers to Canada, the postwar economy, the political and social climate, war and remembrance, and features charts, statistics and a series of profiles of leading Canadians.
Published by Weigl Publishers
Release Date: 2016
ISBN: 978-1-4872-0323-8 (hardcover); 978-1-4872-0324-5 (softcover)
Ages 8-12     Grades 4-6
Reviews
"This series is an excellent introduction to, and overview of, Canada's participation in World War II."
You can read the full review of all the books in the series at the CM Magazine website.