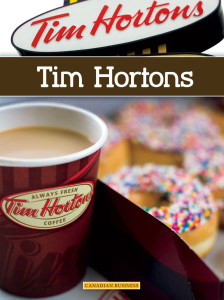 Tim Hortons Inc. is a Canadian restaurant company best known for coffee and donuts, although it does sell other beverages and food items as well. Tim Hortons is the largest fast food service business in Canada and has more than locations than McDonalds. Part of Weigl's Canadian Business series.
"Tim Hortons is an excellent contribution to an exciting new series focussing upon iconic companies in Canada. The stated goal of the series is to explore the history, marketing techniques and the contribution of the companies to Canadian and international finance as well as profiling people and job positions in the company, thereby introducing readers to possible career paths … Overall, Tim Hortons is a good introduction to the history and operation of a successful Canadian business organization, and it presents the reader with many important business concepts and illustrates data in a variety of ways."
Reviewed by CM Magazine for the University of Manitoba, February 2013.
Published by Weigl Publishers
Release Date: Fall, 2012
ISBN 10: 1770712283, ISBN 13: 9781770712287
Ages 13/14     Grades 8 and up