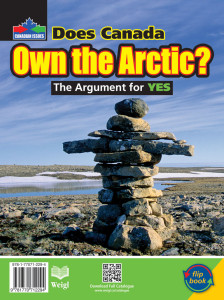 In recent years, the ownership of land in the Arctic has become more of an issue among the countries bordering the region, including Canada. This has involved disputes, as countries stake claims to what has traditionally been seen as Canadian national territory.
The Canadian Issues series examines the current social, political, and economic issues facing Canada. Developed in a debate format, each side of the book presents a different perspective on an issue relevant to Canada today. The historical context of each subject is covered along with likely future developments, adding up to a fascinating look at key modern-day issues.
"Does Canada Own the Arctic? is profusely illustrated throughout with many photographs in colour and has a number of interesting teaching aids. Important terms, such as stewardship are highlighted in bold and definitions given. A number of chapters have interesting sidebars which discuss topics of relevance to the Arctic, such as "Climate Change". Each section has an "Activity" and a "Quiz". These and the other aids help to make the book a valuable classroom resource. Debates could be held between students representing the opposing sides of the issue."
"Does Canada Own the Arctic? is well-written, easy to understand and perfect for the intended readership. It is well researched, and the details are accurate."
Reviewed by CM Magazine from the University of Manitoba, February 2013.
Published by Weigl Publishers
Release Date: Fall, 2012
ISBN 10: 1770712151, ISBN 13: 9781770712157
Ages 13/14     Grades 8 and up