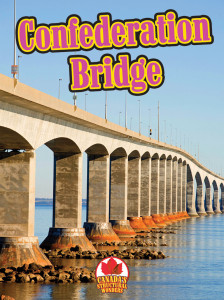 The Confederation Bridge connects the eastern Canadian provinces of Prince Edward Island and New Brunswick. The bridge is not the longest in the world, but it is the world's longest bridge that crosses ice-covered water. Find out more in Confederation Bridge, part of the Canada's Structural Wonders series.
Canada's Structural Wonders identifies some of the country's best-know structures, exploring their history, the people responsible for their creation, and the science behind their construction. Each title features informative text, colourful photographs and maps, and a timeline detailing the steps in construction.
"Confederation Bridge, part of the "Canadian Structural Wonders" series, takes the reader from the planning stages of the bridge to its completion. The text is broken down into clearly labelled sections, typically two pages long, with several one-paragraph entries providing information on various aspects of the bridge and its construction. With the book's having glossy colour photo illustrations complementing the text and facilitating comprehension on every page, readers are sure to stay engaged. The book begins with a timeline starting with the conception of the idea, following through to its completion. This is a great way to hook readers and make them want to read more. The glossary is a great feature, and use of the glossary is encouraged throughout the book. A short quiz about the Confederation Bridge, along with a section titled "Further Resources", are other fantastic features."
Reviewed by CM Magazine from the University of Manitoba, January 2013.
Published by Weigl Publishers
Release Date: Fall, 2012
ISBN 10: 1770714847 ISBN 13: 978-1770714847
Ages 9-12     Grades 4-6