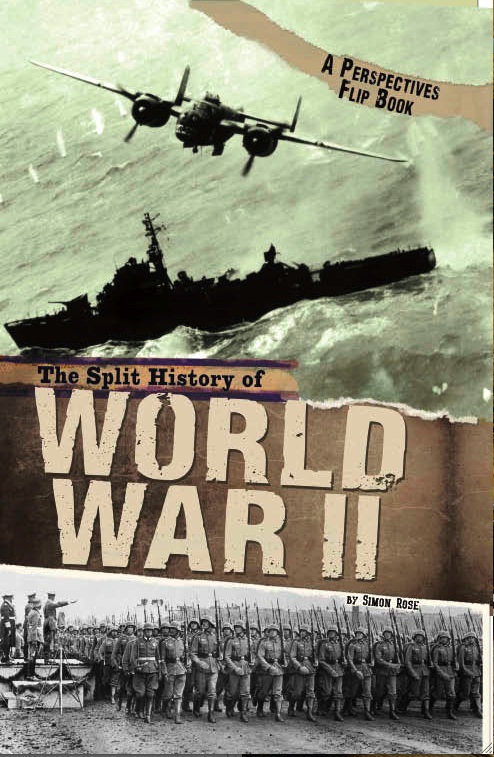 The Split History of World War II is part of the 2012 Capstone Young Readers non-fiction series from Compass Point Books. It is for ages 10 to 14 and published in summer 2012.
'When World War I ended in 1918, it was called, "the war to end all wars." But it wasn't. Unsettled issues and resentments festered for the next 20 years, culminating in the outbreak of war in Europe and Asia in the 1930s. The Axis powers, led by Germany, Italy, and Japan, joined to fight the Allies, led by the U.S., the United Kingdom, and the Soviet Union.'
You can learn more about the book and the series at the Capstone Young Readers website.
Published by Compass Point Books
Release Date: August 2012
ISBN 10: 0756545986 ISBN 13: 978-0756545987
Ages 10-14     Grades 5-8
Just a few places where you can buy The Split History of World War II
Amazon Canada     Indigo/Chapters     Amazon USA     Barnes and Noble    Amazon UK     Amazon Germany   Amazon France     Amazon Japan
Reviews
'The Split History of World War II is part of the publisher's series, which presents a historical event from two differing perspectives in one volume. It is designed as a "flip book" with each section written on opposite sides of the book; one must physically flip the book over to read the other version of events. It is illustrated by black and white photographs of the war years evoking a sense of time and place. The section of the book written from the perspective of the Allies covers topics such as the prelude to the war, the battles in the Pacific, the European front and the victory celebrations at the war's end. The section written from the perspective of the Axis covers the background of the war in Europe and Asia, the war's expansion and the eventual decline of the Axis. Each side has a separate index and the middle of the book, where the two sections meet, has a timeline of historical events, a glossary, a suggestion for further research on the internet, suggestions for further reading on the topic, and a bibliography. Although the Holocaust is not a primary focus of the book, it is addressed in both sections. The concept of a historical event covered from two points of view is interesting and can be used as a springboard for discussion in schools or homes about history, journalism, propaganda, perspective, and truth. Recommended for ages 10-14.'