Oct 31, 2021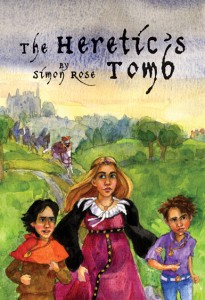 The Heretic's Tomb
While exploring a medieval archaeological site containing the ruins of an ancient English abbey, Annie discovers the long-forgotten tomb of Lady Isabella Devereaux, who had been condemned to death as a heretic in 1349. When Annie curiously examines a mysterious amulet she finds in the tomb, she is suddenly sent hurtling back to the Middle Ages, encountering sorcery, treachery, treason and the ghastly horrors of the Black Death.
The Heretic's Tomb received great reviews when it was first published and remains a favourite with young readers today.
"The Heretic's Tomb is a fast-paced tale of intrigue, sorcery and adventure, set in a fascinating period of history."
"A well-written combo of science fiction/fantasy with the historical novel."
"Simon Rose method of combining two different worlds is seamless. Rose keeps the focus narrow so the story line flows smoothly."
"Rose's ability to take the reader back in time is flawless and the story is filled with suspense that keeps the reader engaged and wanting more."
"He does an exceptional job of wrapping historical facts with fantasy, leaving the reader with a clear picture of some of the hardships of the time."
"Strong character development allows the reader to step into the character's shoes and experience the story first hand. Overall, it was a fun read that I would highly recommend."
Read more reviews of The Heretic's Tomb here on my website.