May 15, 2023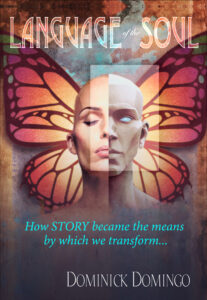 My guest today is author Dominick Domingo, Disney Feature Animation veteran and author of YA Urban Fantasy trilogy, The Nameless Prince. Dominick's short stories and narrative nonfiction essays have been included in anthologies and collections, winning notable awards like the Solas Award for travel writing, Writer's Digest and Craft Literary. He's here to discuss his upcoming release, Language of the Soul: How Story became the means by which we Transform.
So what's the book all about?
I call Language of the Soul my definitive handbook on storytelling. There are plenty of books on the nuts and bolts of technique—what I call the craft of storytelling; this book goes beyond craft, delving into why we tell stories in the first place. From oral tradition through the latest, greatest action adventure film, the drive to tell stories has been alive in us since the first pages of human history. The question is, why? How does story serve the individual, and by extension, what does it offer society on the macrocosmic level?
As individuals, we are products of the stories we've been exposed to. Collectively, humanity is the sum of its history. More potent than persuasion by far, storytelling changes minds by touching hearts. Contemporary buzzwords like Story and Narrative permeate popular culture, from the literary arena through cinema to social media, branding, advertising, political campaigning and propaganda. But why are we truly driven to tell stories in the first place, and how has story become the means by which we transform? 'LANGUAGE of the SOUL: How Story Became the Means By Which We Transform' explores the mechanics of catharsis, the Creative Process, the Artist's Journey and the transformative power of narrative. Language of the Soul explores the biochemical basis of catharsis as well as the mechanics of cultural paradigm shift. It honors inspiration above all else, with a call to action to recognize story in all its forms and embrace its power in our lives.
And what's the story behind the story?
Mid-pandemic, I was asked to offer an online lecture series on Story through Creative Talent Network, to a global community of animation artists and storytellers. A familiar resistance rose up in me: a knee-jerk aversion to the binary approach to teaching craft. In other words, most books on writing presume the unspoken goal of narrative that dictates which approach is 'good/bad/right/wrong' is bank at the box office or best seller status. But what about art for art's sake and literary value as an end in itself? I had no interest in cranking out yet another proprietary, brandable reiteration of western storytelling convention, with all its usual suspects. After some deliberation, my way out of this pinch was to address what I was most passionate about: the why part of the equation. Why we tell stories in the first place.
The more I researched in preparing content for the online series, the more I got in touch with my own drive to express, as well as the common thread that informed all my own writings. My worldviews, thought forms and paradigms had resulted in a voice. More importantly, that voice had been married with a sense of purpose. I'd just completed what I considered my most inspired work to date, mythic fiction novel The Seeker. This meant my own relationship with both craft and purpose was at the fore and I was primed to share my latest discoveries.
The online series offered a great deal of inspiration to fellow creatives at a moment when it was most needed. The series became the basis of Language of the soul, how story became the means by which we transform. On June 1st of 2023, I will be launching both works, as companion pieces.
You must have done quite a lot of research for this book.
I did, on an as-needed basis. My twenty years of classroom experience teaching the arts and humanities has taught me more about the Creative Process, different relationships with it and the Artistic Journey at large than anything I could have learned in a book. This practical experience, combined with thirty years of production experience on collaborative creative ventures with brilliant fellow artists, research done for documentaries over the years (polls and surveys) and simple life experience culminated in the sense I had something to offer. What I mainly offer in the book is the connecting of dots: a judicious view of needlessly divisive lenses; by drawing on everything from spiritual and philosophic tradition through quantum mechanics, cell biology and neuroscience, I'm entreating the reader to rethink presumptions. All under the umbrella of storytelling, of course, and the suggestion that life is story.
The beauty is, I was able to refer to a lifetime of influences, muses, art history references and the milieu of my career. I was able to pay homage to the wisdom traditions and teachers that have shaped me. The practice of going back to these formative influences in order to properly cite them made for even more conviction and renewed passion for the content I am now putting out into the world.
What are you currently working on?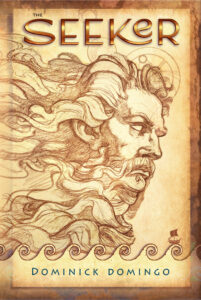 I'm working on promoting my two 'pandemic books.' I think many of us experienced an explosion of creative inspiration during our cultural time out, and I am personally driven to share what resulted. Getting my labors of love into the hands of readers is a very rewarding part of the process for me.
Along with Language of the Soul, How STORY became the means by which we transform, I am launching its companion piece, The Seeker. The Seeker is a Mythic Fiction novel set in Bronze Age Minoan culture. It's a reimagining of the tale of Icarus, with the premise: what if Icarus did not perish when he plunged from heaven like all the songs and poems say? What if he was picked up by a passing mariner and went on to write his own song?
You work with other creatives, as well as on a variety of projects related to storytelling, don't you?
I am always championing creativity in some capacity. In addition to my classroom experience at schools like Art Center, Laguna Art Institute, L.A. Academy of Figurative Art and others, I have been involved with Creative Talent Network since its inception twelve years ago. At CTN Expo each year, I offer workshops, panel discussions, lectures and portfolio reviews. During the pandemic, however, when gathering in person was not an option, I began offering online lecture series via Zoom to a global audience; it was very important that we artists, storytellers, creatives and innovators—that all humans—continued to inspire one another and remember why we do what we do. The content I created for that online series became the premise of Language of the Soul.
So where can people buy The Seeker and Language of the Soul?
Excerpt and LULU purchase link: Print: https://www.lulu.com/shop/dominick-domingo/the-seeker/paperback/product-gd5qwg.html?q=the+seeker+domingo&page=1&pageSize=4
LULU purchase link: eBook: https://www.lulu.com/shop/dominick-domingo/the-seeker/ebook/product-jpvmm5.html?q=the+seeker+domingo&page=1&pageSize=4
AMAZON: https://www.amazon.com/Seeker-Dominick-Domingo/dp/1716937604/ref=sr_1_1?crid=HSMNO7OH0C5R&keywords=9781716937606&qid=1679435587&sprefix=9781716937606%2Caps%2C176&sr=8-1
BARNES and NOBLE: https://www.barnesandnoble.com/w/the-seeker-dominick-domingo/1137628896?ean=9781716937606
Book trailer/author interview: https://youtu.be/gBJyC2AMTfI
Thanks, Dominick, for being my guest here today and the very best of luck with The Seeker and Language of the Soul. I hope that all the books sell thousands and thousands of copies in the coming months.
You can learn more about Dominick and his work on his website at: www.dominickdomingo.com where you can also link to him on social media and at other locations online.
Author web site: www.dominickdomingo.com
Author blog:  www.dominickdomingofiction.blogspot.com
IMDB page:  http://www.imdb.com/name/nm0231460/
LinkedIn: http://www.linkedin.com/pub/dominick-domingo/0/841/905
Goodreads Author Profile: https://www.goodreads.com/author/show/5831369.Dominick_R_Domingo
Facebook Author Page: https://www.facebook.com/TheNamelessPrince
Book info:
Title: Language of the Soul: How Story Became the Means by which we Transform
Author: Dominick Domingo
Author web site: www.dominickdomingo.com
Publisher: Lulu
Genre: Nonfiction
Print ISBN: 9781312807402
eBook ISBN: 9781716519062Format: 6 x 9 trade paperback; 361 pages; $29.60 USD
Distributors: Amazon, Ingram
eBook Format: ePub, Kindle, Nook, PDF
eBook Distributors: Amazon Kindle; Apple iBookstore; B&N Nook; Kobo; Sribd; Libri; Gardners
Release date: June 1, 2023