May 1, 2023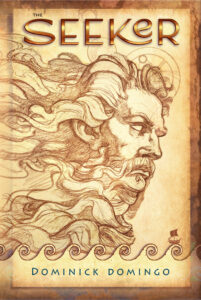 My guest today is author Dominick Domingo, Disney Feature Animation veteran and author of YA Urban Fantasy trilogy, The Nameless Prince. Dominick's short stories and narrative nonfiction essays have been included in anthologies and collections, winning notable awards like the Solas Award for travel writing, Writer's Digest and Craft Literary. He's here to discuss his upcoming release, Mythic Fiction novel, The Seeker. 
So what's the series all about?
The Seeker is a Mythic Fiction novel set in Bronze Age Minoan culture. It's a reimagining of the tale of Icarus, with the premise: what if Icarus did not perish when he plunged from heaven like all the songs and poems say? What if he was picked up by a passing mariner and went on to write his own song?
The book jacket blurb says it best:
Amitayus is unaware of his divine heritage. He has but one foggy, time- shrouded memory of his mother: in it, she has lulled him to sleep with her lullaby on the volcanic shores of Milos. He wakes in time to see her poised on a swell of alabaster sand, gazing back at him. Her eyes are those of one on the brink of freedom, but they are mired with equal regret. She dashes beyond the bone white hillcrest and is gone.
When Amitayus is seventeen, Dianora's lullaby comes to him on the breeze, overtaking the song of the sea. Amitayus fights his practical nature— he has no use for gods or goddesses or mortal heroes—but knows he must heed the call. He sets out on the Ziton, his father's barge, vowing to sail the seven seas to find her. His route intersects with Icarus's flight path from the palace at Knossos, and it is Amitayus who rescues a drowning Icarus from the sea when the boy plunges from glory. The two continue on as a team, scouring the Cyclades for any clue of Dianora's whereabouts. They face great peril, learning the cruel king Minos has put a price on Icarus's head and they are being tailed by Petrus Kyriacou, the most ruthless bounty hunter in the Greek isles. An oracle warns Amitayus his desire is misguided and goes against the gods. But faith compels him onward to face the forces of nature that conspire against them—raging tempests, tidal waves, a Mycenaean invasion and the eruption of Thera which will one day incinerate much of the Cyclades. As it turns out, Zeus himself is determined to thwart the boys' mission, but not for the reason Amitayus thinks. The truth of his divine heritage discovered through great fortune and equal defeat—ultimately leading him to Mount Olympus itself—is revealed only through peril. Ultimately triumphing over disillusionment, Amitayus's journey toward redemption is one we all share. He learns in the end that the wrath of the gods was but a series of tests, that he might prove his heroism and secure his place in Elysium. The thing is, he's not sure that's where he wants to end up.  
And what's the story behind the story? 
Though the term is a bit overused, I will say the Seeker is a true hero's journey in every sense, hitting on universal milestones in the spiritual odyssey we all share. It was inspired by my own journey back from a brush with death and what I learned about the art of self-love. The parable pretty much wrote itself, but once I recognized an archetype or a milestone, I capitalized on it to strengthen its resonance. It's said that the more personal an artist or writer can make the work, the more universally it will land. With that premise, I drew on life experience with every word, phrase and letter, with great faith in its universality.
The myth of Icarus has always resonated with me; in fact, I began writing my own version of it in my late twenties, a portion of which became a chapter in this rendition. At the time, I would have said I related to the inheritance of emotional and spiritual baggage, the burden of having to redeem the sins of the father. To me, when put in context, the myth was not only about temperance (not flying too high nor too low) or knowing man's place in the universe; it was about purging bad blood. With the life experience I've gained since that first retelling, the story became about the art of self-creation in defiance of old narratives. Allowing Icarus to escape death, as I had done, and go on to write his own song was vitally important to me. I think we all hit a point where it seems the gods have it in for us and we must dig in our heels and assert free will. This impasse, for me, was akin to learning the art of self-love, or as I put it in The Seeker, reconnecting with our own divinity. In the novel, our divine heritage is symbolized by the missing-in-action mother with whom Amitayus seeks to connect. He's unaware she's a goddess, and is therefore unaware of his own divinity.
You must have done quite a lot of historical research for this series.
I did. I am by no means an expert on Greek Mythology, Minoan culture, or even Greek Classicism, the lens through which the story is told. I'm just a writer setting out to tell a good story with an emotional core. For that reason, I researched on an as-needed basis and applied artistic license to invent, when appropriate. My research began thirty years ago when first exploring the myth of Icarus, as I mentioned earlier. In this rendition, the more I learned about the relationship (both discrepancies and alignments) between historical fact and mythology, the more compelled I became to integrate certain milestones into the plot. Events like the eruption of Thera and the Mycenaean invasion forged powerful symbology through pathetic fallacy. For texture, ambience and authenticity, I found myself watching endless travel clips and even drone footage of the volcanic beaches on the island of Milos, the Acropolis, and frankly, every inch of the Aegean and the Cyclades themselves. Doing so, I really felt like I was there!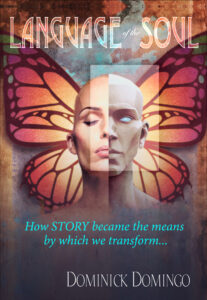 What are you currently working on?
I'm working on promoting my two 'pandemic books.' I think many of us experienced an explosion of creative inspiration during our cultural time out, and I am personally driven to share what resulted. Getting my labors of love into the hands of readers is a very rewarding part of the process for me.
Along with The Seeker, I am launching its companion piece, Language of the Soul, How STORY became the means by which we transform. It's my first nonfiction book. Having founded the Entertainment Track at my alma mater, Art Center College of Design, I went on to teach in the arts and humanities for over twenty years. This experience means I've become passionate about the role of creativity and artistic expression for the individual and the immense role of storytelling in culture. Language of the Soul explores the biochemical basis of catharsis as well as the mechanics of cultural paradigm shift. It honors inspiration above all else, with a call to action to recognize story in all its forms and embrace its power in our lives.
You work with other creatives, as well as on a variety of projects related to storytelling, don't you?
I am always championing creativity in some capacity. In addition to my classroom experience at schools like Art Center, Laguna Art Institute, L.A. Academy of Figurative Art and others, I have been involved with Creative Talent Network since its inception twelve years ago. At CTN Expo each year, I offer workshops, panel discussions, lectures and portfolio reviews. During the pandemic, however, when gathering in person was not an option, I began offering online lecture series via Zoom to a global audience; it was very important that we artists, storytellers, creatives and innovators—that all humans—continued to inspire one another and remember why we do what we do. The content I created for that online series became the premise of Language of the Soul.
So where can people buy The Seeker and Language of the Soul?
Excerpt and LULU purchase link: Print: https://www.lulu.com/shop/dominick-domingo/the-seeker/paperback/product-gd5qwg.html?q=the+seeker+domingo&page=1&pageSize=4
LULU purchase link: eBook: https://www.lulu.com/shop/dominick-domingo/the-seeker/ebook/product-jpvmm5.html?q=the+seeker+domingo&page=1&pageSize=4
AMAZON: https://www.amazon.com/Seeker-Dominick-Domingo/dp/1716937604/ref=sr_1_1?crid=HSMNO7OH0C5R&keywords=9781716937606&qid=1679435587&sprefix=9781716937606%2Caps%2C176&sr=8-1
BARNES and NOBLE: https://www.barnesandnoble.com/w/the-seeker-dominick-domingo/1137628896?ean=9781716937606
Book trailer/author interview: https://youtu.be/gBJyC2AMTfI
Thanks, Dominick, for being my guest here today and the very best of luck with The Seeker and Language of the Soul. I hope that all the books sell thousands and thousands of copies in the coming months.
You can learn more about Dominick and his work on his website at: www.dominickdomingo.com where you can also link to him on social media and at other locations online.
Author web site: www.dominickdomingo.comAuthor blog:  www.dominickdomingofiction.blogspot.com
IMDB page:  http://www.imdb.com/name/nm0231460/
LinkedIn: http://www.linkedin.com/pub/dominick-domingo/0/841/905
Goodreads Author Profile: https://www.goodreads.com/author/show/5831369.Dominick_R_Domingo
Facebook Author Page: https://www.facebook.com/TheNamelessPrince
Book info:
Title: The Seeker
Author: Dominick Domingo
Author web site: www.dominickdomingo.com
Publisher: Lulu
Genre: Inspirational Mythic Fiction
Print ISBN: 9781716937606
eBook ISBN: 9781312810624
Format: 6 x 9 trade paperback; 241pages; $19.66 USD
Distributors: Amazon, Ingram
eBook Format: ePub, Kindle, Nook, PDF
eBook Distributors: Amazon Kindle; Apple iBookstore; B&N Nook; Kobo; Sribd; Libri; Gardners
Release date: June 1, 2023