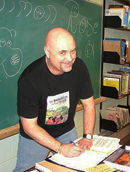 You've finished your first novel after years of painstaking work. You're sure it could be a best seller and everyone you know is very enthusiastic. Yet your manuscript is returned by publishers, complete with a form letter providing no clues as to why they didn't like it. Having your work independently evaluated gives you an unbiased opinion, helping you to tighten your manuscript and fix problems you may have overlooked.
Services Provided 
Content  assessment,  which may include comments on characterization, setting, dialogue, believability, structure, plot, language, research and references.
A summary of the strengths and weaknesses (if any) of your writing, with comments on writing technique, format, technical ability and market potential.
Advice on how to develop your manuscript further.
Responses to up to three specific questions that you may submit with your manuscript.
Fees
I will evaluate both full manuscripts or just a short synopsis, along with the opening chapter. Examples of fees in Canadian dollars are as follows:
Synopsis of up to three pages, plus first chapter, double spaced, not to exceed ten pages: $195 + GST = $204.75
Full manuscript, double spaced: $195 for first ten pages + $2 a page thereafter + GST (e.g. Fee for 200 pages: $195 + $380 = $575 + GST = $603.75)
Evaluation
The evaluation will include a written report of up to three pages, plus suggestions and comments on the text itself, unless you object to that. I will also answer any specific questions regarding what publishers may or may not like in the story.
Please note that this is an evaluation, not a page by page editing service, and consequently, your manuscript may be returned to you containing no further corrections or comments. Depending on the length of your manuscript, the entire process may take up to six weeks.
Submissions
Submissions must be written in English. Please type in black ink, in 12-point standard font, double-spaced, single-sided, with one inch margins on white 8 1/2 x 11 paper of standard weight, such as twenty pound paper. Pages should be numbered sequentially. Do not fold sheets. Use paper clips or rubber bands for bulkier manuscripts. Don't use binders, covers, or coil bindings, staples or fasteners which penetrate paper. You must include
A synopsis of the manuscript of up to three pages
A cover page that includes your name, the number of words in the manuscript and the type of work (e.g. young adult novel, science fiction, short story etc). Whether your name appears elsewhere is up to you.
A page with three specific questions you would like me to address (optional).
Hand-written submissions or manuscripts submitted by email will not be accepted. Don't send originals and always keep a copy of your manuscript.
Genres
I will evaluate manuscripts in most genres of fiction and non-fiction, adult and children's literature, including science fiction, fantasy, speculative fiction, time travel, historical fiction, paranormal, supernatural, suspense, adventure, action, mainstream novels, mysteries, thrillers, romance novels, picture books and more. If you're not sure whether your work is appropriate or require further information, please contact me directly.
Return of Manuscript
To have your manuscript returned, please include a self-addressed, stamped envelope with sufficient postage for return of both the manuscript and the evaluation. If your manuscript is large, please use a padded envelope. Correct payment must accompany your submission.
Contact me directly for further details regarding manuscript evaluation.
*Please note that evaluation of a manuscript and the resulting changes or suggestions, even if acted on by the author, will not necessarily guarantee publication. While the feedback may improve your manuscript, doors will not automatically open. You will also still need to thoroughly research the marketplace to ensure that you are submitting your work to an appropriate publishing house.