A professional writing coach is someone with whom you can consult, ask questions and receive constructive feedback. They act as a guide as you build your career as a professional writer. A coach can help you conquer a stumbling block, regain momentum or make a start on a new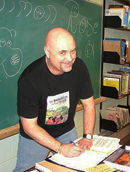 project.
Program 
My program helps you progress as a writer. You decide what you want to work on during a personalized, one on one relationship. I can be your coach for just one month or we can establish a month-to-month arrangement, depending on your schedule and expectations. Contact me directly for rates and fees for the coaching program.
Here are a few examples of topics we can cover, but I'm very flexible regarding  your own unique requirements in areas where you feel that you need the most help.
| | |
| --- | --- |
| Character Development  | Dialogue and Format  |
| Editing and Revision  | Story Structure and Plot |
| Pacing Your Story  | Realistic Settings  |
| Dramatic Beginnings    | Cliffhanger Endings |
| Submitting Work  | The Publishing World   |
| Marketing and Promotion | Websites and Blogs |
| | |