In addition to my work with schools, I also conduct creative writing workshops with groups such as community associations. I have also run workshops and made presentations as part of summer camp programs in Calgary and the surrounding area. Contact me for fees and availability for children's writing workshops and summer camp programs.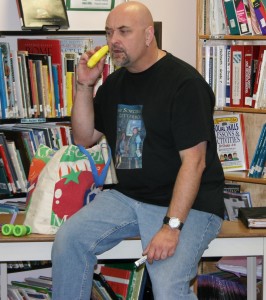 Writing Workshops
Creative writing worksops have usually taken place on Saturday mornings for either ninety minutes or two hours over a six week period. However, I'm very flexible depending on the association's schedule, availability of meeting room space and so on.
Topics and themes that have proved popular include superheroes and comic books, inventing an imaginary country, story creation, time travel tales, spectacular story starters, creating characters, playwriting, future technology, newspaper writing and more, but I'm always open to suggestions.
Summer Camps
I'm available to visit summer camps in the Calgary area each July and August. I can be a special guest or work as part of the programming. I have a number of presentations, workshops, and other programs that are suitable for summer camps, but am very flexible. I'm happy to discuss ways in which my programs can fit in with the general theme of your camp for a particular week.
Summer Camps – Playwriting
I also offer my five day playwriting program for community associations and other groups. This can be run as a morning or afternoon camp for children ages nine to twelve.
Summer Camps – Locations in the Calgary Area
I've worked with a number of organizations in Calgary and the surrounding area for summer camps and writing workshops over the years.
Calgary Arts Summer School Association
Park 96
The City of Calgary
Northern Hills Community Association
Kaleidoscope Preschool
New Brighton Community Association
McKenzie Lake Community Association
South Fish Creek Recreation Centre
Chestermere Public Library
Enchanted Events
Centre for Learning at Home
West Hillhurst Community Association
Calgary Learning Centre
Trico Centre
WordsWorth
SAIT
Calgary Girl Guides
Airdrie Public Library
Bragg Creek Community Association
Westside Recreation Centre
Vivo Centre
Boys and Girls Clubs
EPCOR Centre
Mid-Sun Community Association
Bright Beginnings
Camp Rivendell
Contact me for fees and availability for children's writing workshops and summer camp programs.