The way in which you communicate with your customers is a vital component  of your business and well written content can be the difference between success and failure.
I have extensive experience in composing content for a wide range of industries and market segments and offer a variety of writing services.
Brochures, Direct Mail and Sales Letters
Whether you're just starting a new venture or are looking to revamp your corporate image, I can assist you in creating an effective advertising package for your business. I can also create new content for your direct mail campaign, sales letters or rewrite your existing marketing materials.
Newsletters
Finding the time to communicate with your clients several times a week can often be a challenge. Why not hire a professional to compose your newsletters for you?
Newspaper and Magazine Advertising 
The various forms of advertising used to promote your business all require different approaches and different types of copy. I can help you create professional ads that target your market with high impact headlines, copy that captivates the reader and effective calls to action.
Press Releases
Press releases can be a great way to attract media attention, without the costs of an advertising or marketing campaign. You want your company to look professional, so you need to hire a professional writer to craft your press release.
I offer both hourly rates and flat fees, based on the requirements of the project. Please contact me for details.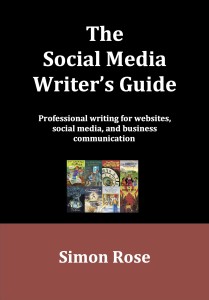 The Social Media Writer's Guide
The Social Media Writer's Guide examines the importance of engaging a professional writer to handle an organization's website, social media, and business communications.
This book examines the creation of clear, concise, and relevant website and other online content that both attracts and retains the visitor's attention.
It explores the use of headlines, the incorporation of keywords, the benefits of the correct use of English, the pitfalls of intentional and accidental errors, and the importance of engaging a professional copywriter to handle a company's business communications.
The Social Media Writer's Guide is available as both an ebook and a paperback on Amazon.