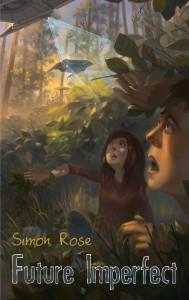 Andrew Mitchell was one of the leading experts in highly advanced technology in Silicon Valley, until he vanished following a car accident, which also injured his son, Alex.
When a mysterious app later appears on Alex's phone, he and his friend Stephanie embark on a terrifying journey involving secret technology, corporate espionage, kidnapping, and murder in a desperate bid to save the future from the sinister Veronica Castlewood.
To be published by Tyche Books, Calgary, Alberta
Release Date: March 2016
ISBN 10: 1928025455 ISBN 13: 978-1928025450
Learn more about Flashback
You can always buy autographed copies of Future Imperfect directly from the author.
Paperback $9.95     
Kindle $3.99            
ePub $3.99              
PDF $3.99               
Just a few places where you can buy Future Imperfect
Paperback
Amazon Canada     Amazon USA     Indigo/Chapters     Barnes and Noble     Amazon UK
Amazon Germany     Amazon France      Amazon Japan
Ebook
Amazon Canada     Amazon USA     Indigo/Chapters     Barnes and Noble     Amazon UK
Amazon Germany     Amazon France     Amazon Japan
Audiobook